Rise of the Reader: Strategies For Mastering Your Reading Habits and Applying What You Learn (Paperback)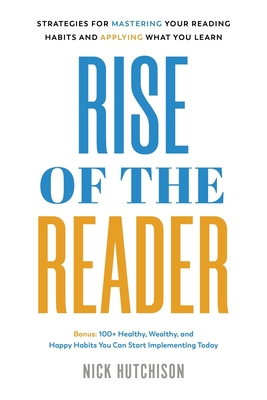 $17.99

Usually Ships in 1-5 Days
Description
---
The Ultimate Guide for Transforming Information into Life-Changing Results
Are you devouring every personal development bestseller out there but still finding it hard to apply what you're learning to everyday life? Reading for self-improvement can be powerful as long as you're effectively implementing the right information. You can become a more successful problem solver and transform your life in as little as 15 minutes a day
Nick Hutchison, founder of the popular book review site BookThinkers, read over 400 personal development books, but implementing their valuable lessons was tougher than just finishing the next chapter. Nick knew self-help books could help him do things like master his social anxiety and fear of public speaking, opening the doors to a successful career in business. Through trial and error, he developed an easy-to-follow framework to retain the knowledge needed to transform his life completely. Now he's giving you over 100 habits to implement into your own reading journey and fulfill your dreams.
In this book, you will learn:
How swapping 15 minutes of social media scrolling for 15 minutes of reading can dramatically impact 20 different areas of your life.
The power of intention when it comes to choosing the right books for you and how much you retain from their knowledge.
How to avoid bias and situational advice in the self-help industry.
Methods for note-taking and information implementation.
More than 100 new habits to improve your health, wealth, and happiness.
With relatable anecdotes and engaging stories, Rise of the Reader will inspire and motivate you to take action and embrace the power of reading. Whether you are a student, a professional, or someone who just wants to reach their full potential, this is your guide to self-actualization and embracing change through reading. Grab your copy now and start improving your action today