Martin Luther King Jr.: Let Freedom Ring: Campfire Biography-Heroes Line (Campfire Graphic Novels) (Paperback)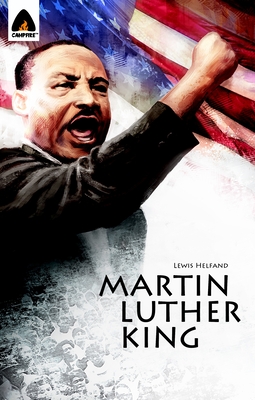 Description
---
Not even half a century ago America was segregated, when everything depended on the color of one's skin. Access to schools, restaurants, parks, buses or even water fountains was segregated. And born into this segregated world was Martin Luther King Jr.

The son of a black preacher, King was taught from a young age that he was equal. He deserved the same rights and freedoms as anyone. He dreams of a nation where people are not judged by the color of their skin but by their character. And he believed that dream could one day become reality.

Armed with one the nonviolent teachings of Ghandi and a staunch belief that all men and women were created equal, Martin Luther King Jr. stepped to the forefront of the Civil Rights movement. Through a series of peaceful protests and marches, King captured the attention of the world... and changed the lives of millions of Americans forever.
About the Author
---
Michael Teitelbaum was born in Brooklyn, New York. He has worked in radio and advertising before joining the publishing industry as an editor of comic books and Children's books and magazines. Michael is the writer and project editor of Breaking Barriers: In Sports, In Life, for Scholastic. He has written many books based on popular characters such as Spider Man, Superman, Batman, Garfield and Kermit the Frog. His latest fiction includes The Scary States of America, published by Delacorte, and Backyard Sports, by Grosset & Dunlap. His latest non-fiction book is Jackie Robinson: Champion for Equality (Sterling), a biography of the great baseball player and civil rights icon.

Lewis Helfand was born in Philadelphia. With a political science degree and a passion for comic books, Lewis is the author of several titles from Campfire, and he continues to work as a freelance writer and reporter for a number of national print and online publications.
Praise For…
---
"This book covers most of the high points of Martin Luther King, Jr.'s life and explains his role in shaping American history. . .  Kumar's photorealistic illustrations are colorful. . . The book would be most useful for reluctant readers who would like to learn more about King's life and understand why he is considered a hero. " - Andrea Lipinski, New York Public Library, in School Library Journal

"This graphic-novel biography of Martin Luther King Jr. packs a surprising amount of information into a slim package. . . this volume offers a decent summary of King's life in graphic format." -- Candice Mack, Booklist