Rodney Scott's World of BBQ: Every Day Is a Good Day: A Cookbook (Hardcover)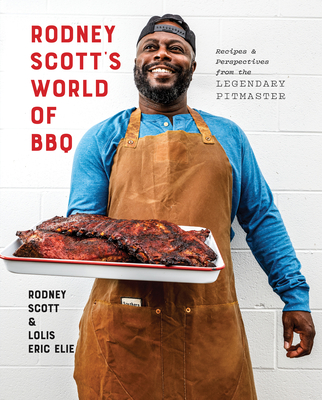 Description
---
IACP COOKBOOK OF THE YEAR AWARD WINNER • In the first cookbook by a Black pitmaster, James Beard Award–winning chef Rodney Scott celebrates an incredible culinary legacy through his life story, family traditions, and unmatched dedication to his craft.

"BBQ is such an important part of African American history, and no one is better at BBQ than Rodney."—Marcus Samuelsson, chef and restaurateur

ONE OF THE BEST COOKBOOKS OF THE YEAR: The New York Times, The Washington Post, Time Out, Food52, Taste of Home, Garden & Gun, Epicurious, Vice, Salon, Southern Living, Wired, Library Journal

Rodney Scott was born with barbecue in his blood. He cooked his first whole hog, a specialty of South Carolina barbecue, when he was just eleven years old. At the time, he was cooking at Scott's Bar-B-Q, his family's barbecue spot in Hemingway, South Carolina. Now, four decades later, he owns one of the country's most awarded and talked-about barbecue joints, Rodney Scott's Whole Hog BBQ in Charleston.

In this cookbook, co-written by award-winning writer Lolis Eric Elie, Rodney spills what makes his pit-smoked turkey, barbecued spare ribs, smoked chicken wings, hush puppies, Ella's Banana Puddin', and award-winning whole hog so special. Moreover, his recipes make it possible to achieve these special flavors yourself, whether you're a barbecue pro or a novice. From the ins and outs of building your own pit to poignant essays on South Carolinian foodways and traditions, this stunningly photographed cookbook is the ultimate barbecue reference. It is also a powerful work of storytelling. In this modern American success story, Rodney details how he made his way from the small town where he worked for his father in the tobacco fields and in the smokehouse, to the sacrifices he made to grow his family's business, and the tough decisions he made to venture out on his own in Charleston.

Rodney Scott's World of BBQ is an uplifting story that speaks to how hope, hard work, and a whole lot of optimism built a rich celebration of his heritage—and of unforgettable barbecue.
About the Author
---
Rodney Scott is the chef and coowner of Rodney Scott's BBQ in Charleston, South Carolina, Birmingham, Alabama, and Atlanta, Georgia. He has been featured in the Netflix series Chef's Table: BBQ, on The Splendid Table, Parts Unknown, It's Alive, and Eater, and in The New York Times and Condé Nast Traveler, among other publications. He won the James Beard Award for Best Chef Southeast in 2018. Rodney lives outside of Charleston with his wife and son.
 
Lolis Eric Elie is a writer and filmmaker. He was a writer on HBO's Treme, OWN's Greenleaf, and Amazon Prime's The Man in the High Castle; his work has appeared in Best African American Essays, The New York Times, Gourmet, and Saveur, and he has been featured on 60 Minutes. He is a New Orleans native and is one of the founders of the Southern Foodways Alliance.
Praise For…
---
"Over the years I've learned that anything from the hands of Rodney Scott has a way of making people ridiculously happy. This book is no exception. Rodney Scott's World of BBQ is a surprisingly approachable guide to bringing the magic flavors of Rodney's restaurant into the home. Cowritten with Lolis Eric Elie, one of this country's finest writers on food and culture, it's also a stirring portrait of a true American original. No secrets, no posturing, all love."—David Chang, Momofuku

"Thirty years in the making, Rodney Scott's World of BBQ takes its readers into the heart, mind, and soul of a barbecue artisan who is at the top of his craft. Rodney Scott "goes whole hog" by accessibly and expertly guiding you through his barbecuing method. His recipes for side dishes, desserts, and beverages definitely remind you that, yes, every day will be a good day when you use this cookbook."—Adrian Miller, James Beard Award winner

"I love Rodney's classic and straightforward approach to BBQ . . . He is a true master of the pits. Watching him smoke a whole hog is an inspiration."—Michael Symon, chef and author

"By the time I met Rodney Scott, I was knee-deep in love with the Southern spirit around food. Meeting Rodney only bolstered my commitment to our collective community—the one in which we all share where we come from, who we are, and what we are about through the food we make. You will learn what Rodney Scott is about the second you taste his food. Truth, integrity, and hard work are hallmarks of Rodney's spirit and contributions to that collective Southern voice. In this book, you can hear that voice and learn about the very important world in which it was cultivated. The South would not be what it is without these traditions, and the Southern conversation around food would not be what it is today without Rodney Scott."—Lisa Donovan, James Beard Award-winning writer and author of Our Lady of Perpetual Hunger
 
"It's rare that someone who is such a master at what they do stands out equally for who they are. Rodney Scott tops both of those lists. In Rodney Scott's World of BBQ he shares his inspiring journey of passion and perseverance—fueled by the power of fellowship and damned fine food cooked from the heart and soul. Now you can cook alongside Rodney and make it a great day for those lucky enough to join you by your pit and at your table."—Danny Meyer, restaurateur and author of Setting the Table: The Transforming Power of Hospitality in Business

"Not only has Rodney Scott taken on the family tradition of BBQ, he's shared it from Charleston to the world. BBQ has such an incredible and complexly layered history, and the fact that Rodney is one of the best—not only in the country, but in the world—is a sign of his expert craftsmanship. We are all going to benefit from this book and learn from his traditions, the way he cooks, and his philosophy. I cannot wait to reread it and, more than anything, cook and enjoy it with my family. Congrats to you, Rodney."—Marcus Samuelsson, chef and restaurateur