Disentangle: When You've Lost Your Self in Someone Else (Paperback)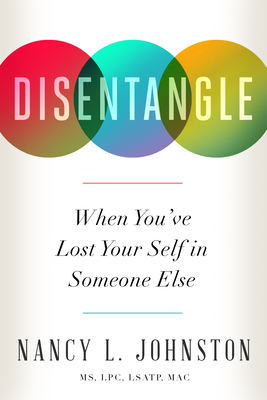 $18.95

Usually Ships in 1-5 Days
Description
---
A revised edition of the best-selling solution-oriented guide to identifying and healing over-involvement or "entanglement" in relationships.
Anyone who has struggled with balancing his or her own needs and desires with those of another person will benefit from Nancy Johnston's sensible, easy-to-follow method for changing the course of relationships. Disentangle combines psychoeducation, personal anecdotes, clinical case vignettes, and skills-building exercises.
Johnston describes how to turn this cycle around with self-assessments and experiential exercises designed to address essential aspects of self-awareness, distortions in thinking, communication style and tools, and spirituality.
Disentangling is the process of creating enough emotional space between oneself and the other person in order to better see the reality of the relationship and make healthier conscious decisions about it.

About the Author
---
Nancy L. Johnston, MS, LPC, LSATP, MAC, NCC, works in private practice in Lexington, VA. With forty-two years of clinical experience, Johnston is an American Mental Health Counselors Association Diplomate and Clinical Mental Health Specialist in Substance Abuse and Co-Occurring Disorders. Over the past fifteen years Johnston has presented at numerous conferences including the Cape Cod Symposium on Addictive Disorders, the Carolinas Conference for Addiction and Recovery, Addiction: Focus on Women, the Virginia Summer Institute for Addiction Studies, the American Mental Health Counselors Association Annual Conference, and the Virginia Counselors 13 Association Annual Conference. She presented a webinar for the National Association of Alcohol and Drug Counselors (NAADAC) in May of 2016. She offers skills building trainings for recovery from codependent behaviors to the general public at her center in Lexington, VA.