The 13: Ashi-niswi (Paperback)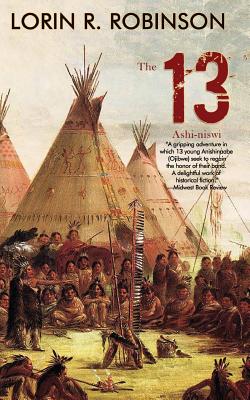 $15.95

Usually Ships in 1-5 Days
Description
---
"A gripping adventure in which 13 young Anishinaabe (Ojibwe) seek to regain the honor of their band. A delightful work of historical fiction."-Diane Donovan, Senior Reviewer, Midwest Book Review
As the Anishinaabe (Ojibwe) slowly migrated into the Lake Superior region centuries ago, they were met by a potent adversary-the Dakota (Sioux) who fiercely resisted their spread into its territory. Gradually the Anishinaabe pushed them out of the northern woodlands and into the plains to the south. This long-running and bloody conflict lies at the heart of the story of Ashi-niswi, The 13.
Following a devastating raid on their camp, 13 Anishinaabe teenagers vow to restore the honor of their band by tracking down and savaging the Dakota raiders. The story is a parable posing the universal question: "What is the price of honor?" It is also a poignant coming-of-age story as the youngest of the youthful warriors struggles to come to grips with the aftermath of the quest.
About the Author
---
LORIN R. ROBINSON chaired the Journalism Department at the University of Wisconsin-River Falls for 10 years after founding and managing the school's public radio station. He then joined 3M Company as a marketing communications manager. After 24 years at 3M, Dr. Robinson returned to teaching-in the Graduate College of Business, University of St. Thomas, Minneapolis. Over the years he has also worked as a journalist, photojournalist, magazine writer and radio announcer.