Barbara: Uncharted Course Through Borderline Personality Disorder (Chickenhouse Chronicles) (Paperback)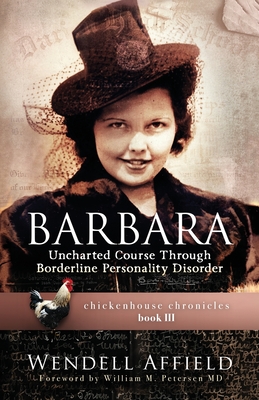 $19.95

Usually Ships in 1-5 Days
Description
---
BARBARA is a riches-to-rags tale about an extraordinarily talented, troubled young woman. After Barbara's death in 20 I 0, the author, Wendell Affield, discovered thousands of documents locked in a rodent-infested chickenhouse. Having spent his childhood living with his mother's mental illness, Affield studies the contents in an effort to understand his mother's life and search for clues to his biological father.
BARBARA, PARTS I and II, explore Barbara's two-decade downward spiral as she struggles with borderline personality disorder (BPD). Taught by the famous pianist, Emile Bosquet at Institut Droissard, Brussels, Belgium, Barbara's natural talent blossoms. Mouse-gnawed 1939 documents reveal Barbara's impulsive engagement (and possible marriage) in Poland, and her narrow escape from the Nazi invasion. Upon her return to New York, after dropping out of juilliard School, Barbara begins a decade of running from her problems, leaving a wake of failed marriages and rendezvous resulting in four children. Feeling abandoned by her family and searching for a new start, she posts an advertisement in Cupid's Columns that is answered by a bachelor farmer in northern Minnesota.
BARBARA, Part III, chronicles the author's search for his biological father and the labyrinth leading to a breakthrough. Acceptance by his new-found family is an incredible testament to the power of love.