Cluster of Lies (Joe Higheagle Novel #2) (Paperback)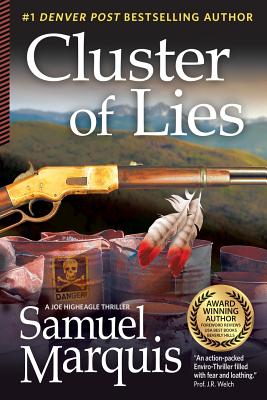 $15.99

Usually Ships in 1-5 Days
Other Books in Series
This is book number 2 in the Joe Higheagle Novel series.
Description
---
In this second thriller in the Joe Higheagle Environmental Sleuth Series, mysterious deaths are taking place in the Rocky Mountain region outside Denver, Colorado. Joe Higheagle--a full-blooded Cheyenne geologist who has recently become an overnight celebrity for bringing down a billionaire corporate polluter--is hired to investigate Dakota Ranch, where four boys have recently died from a rare form of brain cancer, and Silverado Knolls, a glitzy soon-to-be-built development. He quickly finds himself entangled in an environmental cancer cluster investigation as well as a murderous conspiracy in which friend and foe are indistinguishable, and a series of seemingly impenetrable roadblocks are thrown in his path.
While the police work to uncover if foul play could have led to the suspicious death of a heavy-equipment company owner, the unconventional Higheagle works in parallel to solve the mystery of what is killing the young boys at Dakota Ranch. His goal is to find out who is ultimately responsible for the cancer cluster and bring them to justice. His search leads him to Hayden Prescott--the suave multi-millionaire developer of Dakota Ranch and Silverado Knolls as well as a leading Denver citizen.
Will Higheagle and the police discover the truth behind the cancer cluster and the death of the business owner? Is Hayden Prescott to blame, or could it be one of Higheagle's own clients or even a shadowy third party? Most importantly, will justice at Dakota Ranch and Silverado Knolls be served before more death and treachery comes to the Rockies?