Scores: How I Opened the Hottest Strip Club in New York City, Was Extorted out of Millions by the Gambino Family, and Became One of the Most Successful Mafia Info (Hardcover)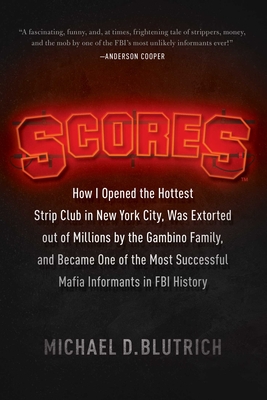 $26.95

Usually Ships in 1-5 Days
Description
---
A gay man who created New York's most notorious den of heterosexuality . . . an anxious, anything-but-hardboiled lawyer who became one of the most successful undercover mob informants in history. . . .

In this hilarious and fascinating account, Michael Blutrich takes you inside star-studded 1990s New York, mafia sit-downs, and the witness protection program.

Meet Michael D. Blutrich, founder of Scores, the hottest strip club in New York history. A resourceful lawyer at one of the city's most respected firms, Blutrich fell into the skin trade almost by accident, but it was his legal savvy that made Scores the first club in Manhattan to feature lap dances and enabled him to neatly sidestep a law requiring dancers to wear pasties by instead covering their nipples with latex paint. Soon Scores, the club Howard Stern called "like being in a candy shop," was a home away from home for everyone from sports superstars and Oscar-winning actors to pop singers and political notables alike.

The catch? The club was smack dab in John Gotti's territory, and the mafia wanted a piece of the action. The Gambino family doesn't take no for an answer . . . and neither, as it turns out, does the FBI. In his memoir, Blutrich recounts in detail how his beloved club became a hub for the mafia, and how he found himself caught up in an FBI investigation, sorely struggling to juggle roles of business owner and undercover spy.

As his life spiraled out of control, Blutrich would face the loss of almost everything dear to him. But whether marching a line of topless strippers as human exhibits into a trial to save the club's liquor license or wearing wires to meetings with armed gangsters, he never lost his sense of humor or his nerve. In Scores, Blutrich finally tells all—from triumph to betrayal—in his own funny, self-deprecating voice.
About the Author
---
After distinguishing himself as an extraordinary undercover cooperator credited with almost 40 convictions of mafia defendants, Michael Blutrich was unexpectedly sentenced, over government opposition, to more than 13 years of imprisonment in the Federal Witness Security Program. Today he lives and works under a new identity in a secret location.

After graduating from the Georgetown University Law Center law, Blutrich had a distinguished legal career as a Park Avenue attorney, including a partnership with New York Governor Andrew Cuomo. As an entrepreneur, he was the original owner of SCORES as well as several other popular nightclubs, owned an HBO boxing promotion enterprise, and for seven years hosted ?Psychic Eye, an acclaimed radio talk show on both WOR-AM and WEVD-AM in New York City. Anderson Cooper recently interviewed him on a segment of 60 Minutes examining his undercover experiences.
Praise For…
---
"A fascinating, funny, and, at times, frightening tale of strippers, money, and the mob by one of the FBI's most unlikely informants ever!"
—Anderson Cooper

"The Mob takes retribution seriously. And it has a long memory and they will find an opportunity, if possible, and they will kill Michael Blutrich."
—Art Leach, former federal prosecutor and chief of the Organized Crime Task Force

"Scores is a compelling true crime book that takes readers on a wild ride. This book has it all – mobsters, strippers, extortion, G-men, and one unlikely FBI informant. Michael Blutrich has told a riveting tale that will keep reader entertained and enthralled."
—Miles Corwin, author of Homicide Special

"In Scores, we finally have the definitive insider memoir of the club that changed New York City nightlife forever. The book is a blockbuster ride revealing secrets held close since the 1990s."
—Harvey Osher, Scores owner, 1998–2008

"Michael's story is a riveting window into the secret world of FBI undercover cooperation by a prominent NYC lawyer against the Mafia. As Michael's lawyer, I was present for many of the events he describes, and, unbelievable as it may seem, his story is true. His case is like no other I've encountered in my 40-year career, and his book will become an instant classic. Even knowing how it would end, I couldn't put the book down until the final page."
—Morris "Sandy" Weinberg, Jr., Partner, Zuckerman Spaeder LLP, Tampa, FL, Former AUSA in the Southern District of New York, Chair-elect of the ABA Criminal Justice Section

"Michael Blutrich, a smart lawyer from Brooklyn, was feeling pretty good when his new Upper East Side strip club became a must-visit destination for everyone from Leonardo Di Caprio to Donald Trump. Then Blutrich found out he had partners he hadn't known about: John Gotti's crime family. An irrepressible wiseacre, Blutrich's first thought was that he'd seen nothing about that in the lease. Then a couple of hoods whacked two employees and things got very real, very fast. Soon, Blutrich became the least likely undercover agent the FBI ever had, wearing a wire against Gotham's biggest gangsters. But he kept his eyes open and his sense of humor and the result is this great read."
—Tom Robbins, investigative reporter and coauthor of Mob Boss