A Company of Owners: Maximizing Employee Engagement (Paperback)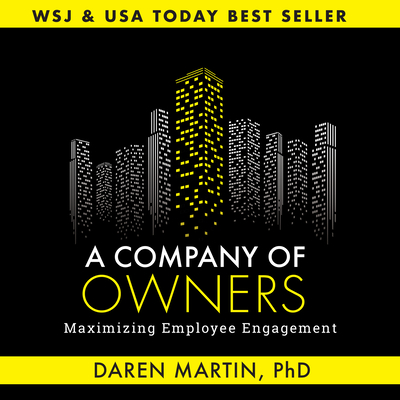 $14.99

Usually Ships in 1-5 Days
Description
---
This quintessential Wallstreet Journal and USA Today bestselling business book from Company Culture expert Dr. Daren Martin has impacted thousands of people in all sorts of companies including PayPal, Verisign, Lockheed Martin, Southwest Airlines, Select Medical, Cox Media and more.
Lack of employee engagement is the biggest challenge facing business owners and leaders today. In this fast paced high impact book, Daren Martin delivers proven insights and solutions he uses to create ownership cultures in some of the biggest companies in the world. This quick reading, hard hitting, solution-oriented book is a staple in many top business leader's libraries. Using insights gleaned from years helping companies and coaching leaders, Dr. Martin teaches company leaders how to turn team members into owners. Areas covered include the difference between an engaged employee and a zombie employee, hiring and firing, why having fun at work is good business, toxic employees, the eight core attitudes and behaviors of an owner, and more. The visually appealing graphic layout easily engages readers and leads them through a dynamic learning process. This book is intense, humorous, challenging, thought provoking and extremely engaging.
A Company of Owners
was birthed from a hallway conversation between the author and the COO of a 20 Billion dollar company. The author told the COO, "You need to fire all your employees. You don't want employees, you want people who act like owners." When business tycoon Mark Cuban was asked how important to the success of a company is company culture he responded, "Culture is everything " Employee engagement is at an all time low. To make matters worse, only 16% of business leaders say their culture is where it needs to be. Regardless of the size of your company, you will find ideas in this book that will be immediately actionable to improve your company and yourself. One employee at a well known Computer Retail store, quit and started his own rideshare company as a result of reading this book.
What if everyone at your company was empowered to...
Act like an owner
Be fully engaged
See the company as a connected silo free enterprise
Work effectively together
Focus on improving and growing the company
Many companies provide this book to all their leadership team and in a number of cases all their employees. Scroll up and get this book today for you and your entire team.