The Saint of Carrington: A Spirited Christmas Story of Hope, Healing, and the Power of Believing (Hardcover)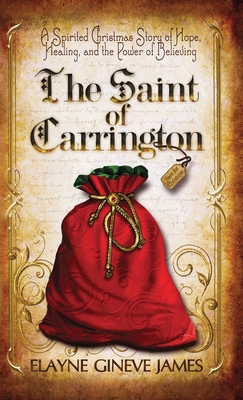 $24.95

Usually Ships in 1-5 Days
Description
---
In the tradition of timeless Christmas books like Richard Paul Evans' The Christmas Box, and the moving works of Donna VanLiere's The Christmas Shoes and The Christmas Hope, The Saint of Carrington will reach into the hearts of readers at any age and soon have all believing in the true magic of Christmas.
"You are cordially invited to The Carrington Grand Hotel for an old-fashion 1890s Christmas. This holiday season, warm your heart and escape to the mountain town of Carrington for an uplifting tale of family and forgiveness, ancient secrets and new beginnings, and the enduring Christmas spirit."
If you like classic family-friendly Christmas stories, Victorian-era industrial age settings with a bit of mystery, magic, and miracles mixed in, you will love this warmhearted holiday novel by Elayne Gineve James. Scroll up and purchase a copy to start reading today
ON THE BACK OF THE BOOK . . .
It is December 1899, a time of great promise and industrial adventure, yet for William Thomas, who lost his father last year at Christmastime, the holiday season holds no enchantment, and the turn-of-the-century offers no excitement.
But when a hidden gift left behind by his father sets William and his family on a transatlantic voyage to an obscure little town in the Swiss Alps, they meet a very significant individual whose magical lineage dates back to the very first Christmas.
Enchanted by the strange mystique surrounding the town of Carrington, they find themselves immersed in an ancient mystery and begin to uncover it's bewildering secrets. But for William, there is a deeper mystery, one left behind by his father, and solving it just may be the key to restoring his hope, healing his heart, and re-capturing his belief in the magic of Christmas.