Guinness World Records, Gamer's Edition (Paperback)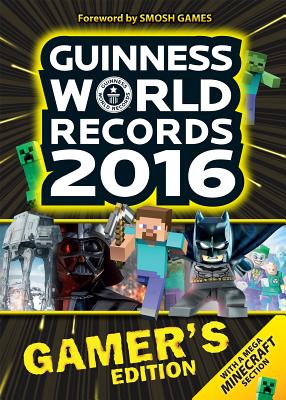 Description
---
The bestselling video games annual is back Bursting with mind-blowing records and tantalizing trivia, the "Guinness World Records 2016: Gamer's Edition" is a must-have for any gaming fan. Whether you're all about the latest first-person shooter, an app aficionado, an MMO master, or a die-hard retro gamer, you'll find show-stopping records, top 10 roundups, quick-fire facts and stats, and hundreds of amazing new images from all your favorite games. What's more, brand new for this year's book is a dedicated section just for "Minecraft" fans, with a mega-showcase of the greatest construction records, in-game tips and lots more blocky goodness.
Plus, discover which tech milestones have been smashed in the last year - in both software and hardware, get all the insider secrets from industry experts, and marvel at the players who have leveled up to the very top of the leaderboards. Think you can challenge the current champions? Look inside to see how to break your very own record
"Guinness World Records: " "Gamer's Edition"s have sold a whopping 3+ million copies. Find out for yourself why it's a game-changer.
About the Author
---
Guinness World Records (GWR) is the global authority on recordbreaking

achievements.First published in 1955, the annual Guinness World Records book has

become one of the biggest-selling copyright titles of all time, selling 120

million copies to date in 22 languages and in more than 100 countries.

The internationally renowned brand is now also available across a

number of platforms - GWR's global television shows are watched by

250 million viewers annually; digital media and online record-processing

services attract more than 50 million visitors a year; and the live events

team annually entertains and inspires 1.5 million people around the

world.GWR receives more than 1,000 applications each week and has a

specialized team of multi-language record managers and adjudicators

who travel the globe to verify official record attempts."