The French Country Housewife: The First Volume of Maison Rustique Des Dames (Hardcover)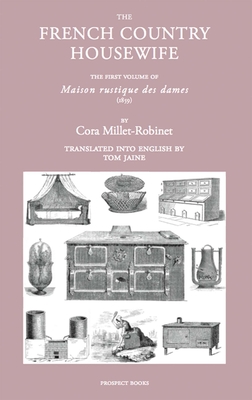 $50.00

Usually Ships in 1-5 Days
Description
---
The French Mrs. Beeton, Cora Millet-Robinet's book was found in every nineteenth-century French household, a first resource in the kitchen, the garden, and the drawing-room. A treasure trove from the past, it tells us how she went about furnishing and decorating, managing the family and the household, entertaining guests, and of course cookery. From bottling and preserving fruit and vegetables, making jam, and salting meat to the staples of the French cooking, la cuisine bourgeoise, Madame Millet-Robinet is always informative.
An English translation of the first volume of the fourth edition (1859), this is a handbook for the active woman who is a true partner to her husband, no mere ornament.
Madame Millet-Robinet's book is a fabulous source of information for lovers of history, for readers of novels from the heroic age of French literature--Victor Hugo, Honor de Balzac, and Gustave Flaubert; for enthusiasts for French cookery; and for all those people with houses deep in the French countryside wanting to know more about their surroundings.
Cora Millet-Robinet was born in 1778 in Paris. She went in the 1820s with her husband to live in a ch teau in Poitou. The couple were agricultural reformers, and grew mulberry trees and wove silk. Millet-Robinet wrote two books, the first on motherhood and her masterpiece, this volume, a rustic manual on housekeeping and farming.
Tom Jaine has been an archivist, a restaurant owner, and editor of the Good Food Guide and the Oxford Companion to Food. He was the publisher at Prospect Books from 1993 to 2014.