Suzanne and Gertrude: A Novel (Paperback)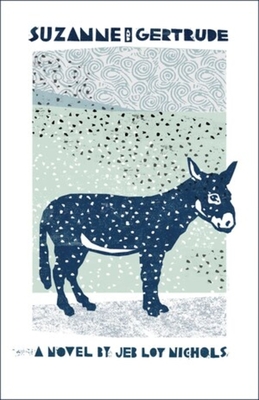 $15.00
Usually Ships in 1-5 Days
Description
---
A rare story about Suzanne, a human and Gertrude, a donkey   
"I write because there are things I can't sing.  There are ways of writing that can't be sung.  I write because I watch," says Jeb Loy Nichols, an internationally acclaimed musician and artist, about his literary art.  In this unforgettable novel, Suzanne has arranged her life to suit her solitariness, living quietly on her untended hill farm.  Her days are a word-shy negotiation, caught between indifference and uncertainty.  Into this world comes Gertrude, a wandering donkey.  Together they form an unlikely alliance; each protecting the solitude of the other.  
Suzanne and Gertrude is a tale of intermittent griefs and wonderments. How do we live, not just with each other, but with memories, with impermanence, with the inevitable melancholy of being?   
Suzanne and Gertrude is a spare novel with a profound impact.
About the Author
---
Jeb Loy Nichols lives in rural Wales and comments: "I live here in the hills because I don't want to be anywhere else. There are 9 million people in London, 8 million in New York, 16 million in Lagos.  That's a whole lot of people, a whole lot of neon, an army of cars, mountains of plastic, oceans of oil.  That's a whole heap of trouble right there.  I'm not saying it's better or cleaner or less trouble out here, but it's definitely quieter. I try and be the least I can be.  Bring the least disruption, the least intrusion, the smallest footprint, do the least prettifying; shut up and be still."
Praise For…
---
"Jeb Loy Nichols has plowed his own unmistakable furrow between art, music, and the ups and downs of life. Consummately brilliant at every task he undertakes, he is a lighthouse keeping the listener off the rocks and directing them to a better place."
— Max Reinhardt - BBC Radio

"A modern, unexpected voice, a master stylist. Sentence after sentence leaves you astonished and wanting more."
— Bookforum

"Here is a supple intelligence in play… a sprightly and welcome voice."
— Iain Sinclair

"The high priest of country cool."
— Rolling Stone