Decode People Personalities: How to Analyze People by Knowing Body Language Signals and Behavioral Psychology. Understand What Every Person is Sayi (Paperback)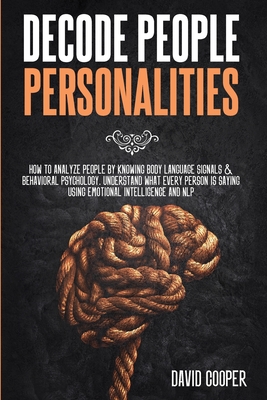 Description
---
Have you ever been in a situation that made you feel like you needed to know people better but it just felt so impossible?
Do you have relationship or communications problems either due to one reason or the other?
Here's the deal.
You have always tried to understand if your partner or your children were lying to you, but you never knew how to read carefully the signals that their body was communicating unconsciously. You have always tried to understand the reason behind the behavior of some people around you, without ever being able to extract a spider from the hole.
I bet you felt frustrated when, after a chat, you felt like you were being manipulated or induced to take certain actions without you realizing it. We've all been there, me first. It is precisely for this reason that today can be your lucky day.
If it does, then the strategies and techniques suggested in this audiobook are for you.
Analyzing people does not mean that you have to take up a CIA integrative job in order to analyze people and decode their nature piece by piece. This audiobook gives you an easy and fun way of understanding and pointing out possibilities of getting along with anyone.
Pointing various ways you could understand and read body language, learn about psychological theories and principles that will help you in your social life; the audiobook is an all under one roof manual that gives you steps and guidelines for ultimate success in this quest.
It also equips you with more tricks up your sleeve in terms of communication skill sets and behavioral analysis that point out traits and personalities of people.
Here are a few reasons why this audiobook is worth both your time and money:
You'll be able to use it in your own liking as well as do more extensive research with guidelines from this audiobook.
It clearly gives day to day advice and pointers to push you and drive you on whether you are going through it alone or with your family.
The audiobook accommodates all age groups and therefore is readily available and convenient for anyone.
The journey to understanding and analyzing people is one milestone that is commonly the downfall of many, but in this case, it acts and imitates as your manager and guide and will keep you on course if you give interest and concentration.
You will learn how to identify a liar and how to defend yourself from being manipulated.
You will learn how to read body language signals, from the head to the feet
Well look no further, this audiobook will give you a classified and understandable point into theories that involve a person's wellbeing in terms of behavioral matters.
Unlike other ones, this has gone straight to the points with few guidelines and tips as well to keep you on track.
If you finally want to understand people better and improve your relational skills, then click the buy now button on this page to get started