Covert Manipulation: 2 In 1: How to Analyze People and Dark Psychology Secrets. Master the Art of Body Language and NLP To Influence Anyone (Paperback)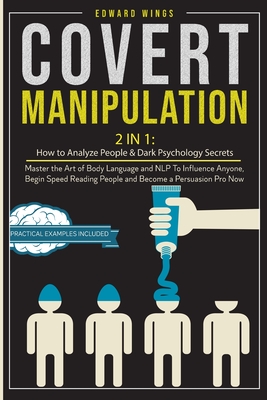 Description
---
Discover how to read people like an open book and master the art of persuasion.
Your customers will never stop using this awesome book
Are you searching for an incredible introduction to the world of manipulation and dark psychology? Want to know how you can practice the art of speed reading people and pick up on subtle non-verbal cues? Then this bundle is for you
Inside this brilliant 2-in-1 collection, you'll delve into the secret art of manipulation, unveiling how you can learn to become an expert speed-reader and identify body language cues with ease. Drawing on the latest scientific and psychological insights, you'll gain a deep and profound understanding of persuasion, NLP, mind control and hypnosis.
Whether you want to learn to spot a lie, detect manipulation for yourself, or even figure out what people are thinking from subconscious cues, this collection provides a detailed and comprehensive introduction to all these skills and more. Plus, with practical exercises and real-life examples so that you can see these strategies in action, this bundle is perfect for anyone who wants to read other people and influence their behavior - all without them even knowing it.
In How to Analyze People, you'll discover:
Why YOU Should Learn To Speed Read People Today
Breaking Down Common Human Behavior and Psychology
Surprisingly Simple Tips To Spot a Lie
Practical Ways To Master Manipulation, Persuasion, and Mind Control
Why Neuro-Linguistic Programming Is a Powerful Tool For Manipulating People
And Much More...
And in Dark Psychology Secrets, you'll learn:
Exploring The Best Techniques For Dark Psychology
How Dark Psychology Can Help You Control Your Own Mind and Emotions
Understanding Covert Emotional Manipulation and Its Uses
How To Harness The Power of Subliminal Manipulation and Hypnosis
And More
These proven techniques are incredible tools which can help you boost your confidence, win negotiations, defend yourself from manipulators, and improve your relationships. No matter your goals or your level of experience, this collection offers you the power to understand people, the power to control others subconsciously, and the power to defend yourself from manipulative tricks.
Buy it NOW and let your customers begin to manipulate and defend from manipulators