Saint Death's Daughter (Saint Death Series #1) (Hardcover)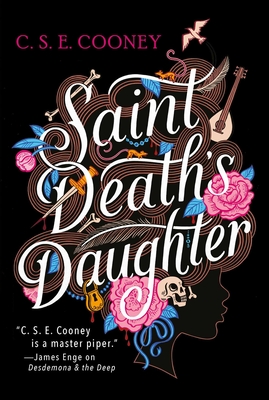 Description
---
Fun, froofy and glorious: a coming-of-age story in a new trilogy from World Fantasy Award-winning author C.S.E. Cooney.

Life gets complicated when Death gets involved.

To be born into a family of royal assassins pretty much guarantees that your life is going to be... rather unusual. Especially if, like Miscellaneous "Lanie" Stones, you also have a vicious allergy to all forms of violence and bloodshed, and an uncanny affinity for bringing the dead back to life.

To make matters worse, family debt looms – a debt that will have to be paid sooner rather than later if Lanie and her sister are to retain ownership of the ancestral seat, Stones Manor. Lanie finds herself courted and threatened by powerful parties who would love to use her worryingly intimate relationship with the goddess of death for their own nefarious ends. But the goddess has other plans...
About the Author
---
C. S. E. Cooney is the author of World Fantasy Award-winning Bone Swans: Stories. Her short novel The Twice-Drowned Saint is included in Mythic Delirium's anthology The Sinister Quartet. Other work includes Tor.com novella Desdemona and the Deep, and a poetry collection: How to Flirt in Faerieland and Other Wild Rhymes, which features her Rhysling Award-winning "The Sea King's Second Bride." Her short fiction and poetry can be found in Jonathan Strahan's anthology Dragons, Ellen Datlow's Mad Hatters and March Hares: All-New Stories from the World of Lewis Carroll's Alice in Wonderland, Rich Horton's Year's Best Science Fiction and Fantasy, and elsewhere.