The Best Science Fiction and Fantasy of the Year, Volume Eight (Paperback)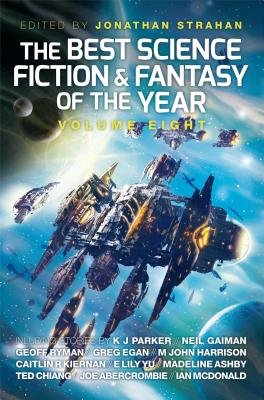 Description
---
From the inner realms of humanity to the far reaches of space, these are the science fiction and fantasy tales that are shaping the genre and the way we think about the future. Multi-award winning editor Jonathan Strahan continues to shine a light on the very best writing, featuring both established authors and exciting new talents.

Within you will find twenty-eight incredible tales, showing the ever growing depth and diversity that science fiction and fantasy continues to enjoy. These are the brightest stars in our firmament, lighting the way to a future filled with astonishing stories about the way we are, and the way we could be.

Including stories by K J Parker, Neil Gaiman, Yoon Ha Lee, Joe Abercrombie, Sofia Samatar, Greg Egan, E Lily Yu, Geoff Ryman, M Bennardo, Ramez Naam, Ted Chiang, Priya Sharma, Richard Parks, Lavie Tidhar, Thomas Olde Heuvelt, Benjanun Sriduangkaew, Eleanor Arnason, Ian R Macleod, An Owomoyela, Karin Tidbeck, Madeline Ashby, Caitlin R Kiernan, Robert Reed, Ian Mcdonald, Val Nolan, M John Harrison, James Patrick Kelly and Charlie Jane Anders.
About the Author
---
Jonathan Strahan is a World Fantasy Award award-winning editor, anthologist, and podcaster. He has edited more than 70 books, is reviews editor for Locus, a consulting editor for Tor.com, and co-host and producer of the Hugo-nominated Coode Street Podcast.

After a spectacularly unsuccessful career as a lawyer, K J Parker started writing for a living in 1995. When not gazing helplessly at a blank screen, KJ rears pedigree Oxford Sandy & Black pigs, chops down trees and makes things out of wood, metal and cloth. He won the World Fantasy Award for best novella two years running, and currently averages 92.8 in the SSBSA summer league. He also writes under the name Tom Holt.

E. Lily Yu received the John W. Campbell Award for Best New Writer in 2012 and the Artist Trust LaSalle Storyteller Award in 2017. Her stories have appeared in McSweeney's, Boston Review, F&SF, Clarkesworld, and Terraform, among others, as well as multiple best-of-the-year anthologies, and have been finalists for the Hugo, Nebula, Sturgeon, Locus, and World Fantasy awards.
Praise For…
---
'"Best" in this context is more than its constituent parts, it's a demonstration of all that can be found: diversity of voice, subject and form; balance between new and established voices; work from a good range of original sources... Books as good as this should be of interest to any admirer of short fiction, regardless of genre.' The Guardian