The Obesity Code: Unlocking the Secrets of Weight Loss (Why Intermittent Fasting Is the Key to Controlling Your Weight) (Paperback)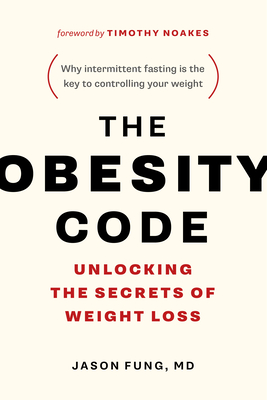 $18.95

Usually Ships in 1-5 Days
Description
---
FROM NEW YORK TIMES BESTSELLING AUTHOR DR. JASON FUNG: The landmark book that is helping thousands of people lose weight for good.
Harness the power of intermittent fasting for lasting weight loss
Understand the science of weight gain, obesity, and insulin resistance
Enjoy an easy and delicious low carb, high fat diet
Ditch calorie counting, yoyo diets, and excessive exercise for good
Everything you believe about how to lose weight is wrong. Weight gain and obesity are driven by hormones--in everyone--and only by understanding the effects of the hormones insulin and insulin resistance can we achieve lasting weight loss.
In this highly readable and provocative book, Dr. Jason Fung, long considered the founder of intermittent fasting, sets out an original theory of obesity and weight gain. He shares five basic steps to controlling your insulin for better health. And he explains how to use intermittent fasting to break the cycle of insulin resistance and reach a healthy weight--for good.
About the Author
---
Dr. Jason Fung is a nephrologist and one of the world's leading experts on fasting for weight loss and type 2 diabetes reversal. He is a co-founder of the Fasting Method, which teaches people how to incorporate intermittent fasting and healthy eating in their lifestyle, and supports them on their journey to better health. He is a New York Times-bestselling author whose books include The Obesity Code, The Diabetes Code, The Obesity Code Cookbook, The PCOS Plan, Life in the Fasting Lane, and The Complete Guide to Fasting (co-authored with Jimmy Moore). Dr. Fung completed medical school at the University of Toronto and a fellowship in nephrology at the University of California. Dr. Fung is also the co-founder of The Fasting Method, a program to help people lose weight and reverse Type 2 Diabetes naturally with fasting. He lives in Toronto.Timothy Noakes is Professor of Exercise and Sports Science at the University of Cape Town, a marathon runner, and the author of the bestseller The Lore of Running. After discovering research supporting a high fat, low carb diet as the healthiest option for many people, he started the Noakes Foundation in 2012, and has dedicated his life to opening people's eyes to the myth of low-fat eating and the nutritional and environmental crisis it has led us to.