Radical Spirits: India's First Woman Doctor and Her American Champions (Paperback)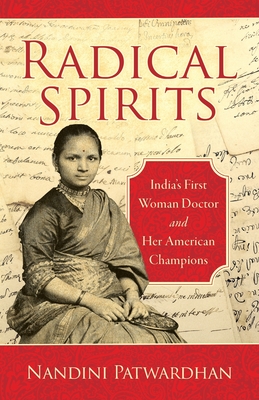 $15.99

Usually Ships in 1-5 Days
Description
---
"In the company of a brave and determined young woman, Radical Spirits takes us to the fraught social and religious frontier between two cultures, India and America in the late 1800s. The journey makes for a captivating story, every page granting insights into the age-old struggle to surmount entrenched borders and barriers."
-- Robert Kanigel, author of The Man Who Knew Infinity and Eyes on the Street
In 1883, an eighteen-year-old Indian woman named Anandi Joshee sailed alone from Calcutta to New York with the goal of becoming a doctor. At the time there were no schools for girls in India. Also, the few doctors (who were all male) were not permitted to treat female patients. Having witnessed the suffering of women, Anandi hoped to help create a culture that saw women as deserving and capable of equality with men.
Anandi faced critics in India and skeptics in America. Her mentor was her husband Gopal, who tutored her at home and fostered her ambition. Her unexpected champion was Theodocia Carpenter, a New Jersey housewife who initiated a three year correspondence, offering "all possible help."
With her determination and grace, Anandi won the support of all -- Indians, Americans, as well as British -- who crossed her path. Three thousand supporters attended her 1886 graduation from the Woman's Medical College in Philadelphia.
Using original letters, university archives, and newspaper accounts, "Radical Spirits" draws a textured portrait of British India and post-Civil War America. Exploring the relationships that Indian, British and American individuals forged by bridging cultural, political, and class boundaries is sure to be a rich and rewarding experience.
ADVANCE PRAISE
"A sensitive look at the inner world of India's first woman doctor, the pain and suffering she endured, and the determination that drove her remarkable and inspiring journey."
-- Shrabani Basu, author of Victoria and Abdul
"Deeply researched and accessibly written, this intimate portrait is also a social and cultural history of the circuits of a transnational figure who made medical history. Readers of Radical Spirits will come away with a critical appreciation of the worlds Anandi Joshee traveled through and the challenges she faced as she pursued a medical education and "a new independent self." . . . Despite her short life, Dr. Joshee found kith and kin in India, Britain and beyond. Nandini Patwardhan has brought the paradoxes of her life alive for a new generation of readers."
-- Antoinette Burton, historian of 19th and 20th century Britain, University of Illinois, Urbana-Champaign
". . . By telling the history of Anandi-bai Joshee, Nandini Patwardhan has crafted a uniquely intimate and revealing portrait of the long history of migrants from India to America. A beautiful story and a rich history, Radical Spirits reveals how individual lives matter, and how one pioneering woman crossed the borders of nations and cultures, as well as the gendered boundaries of the medical profession."
-- Nico Slate, Professor of History at Carnegie Mellon University and author of Gandhi's Search for the Perfect Diet: Eating with the World in Mind.
". . . I thoroughly enjoyed every word, and I am in awe of Patwardhan's accomplishment. Dr. Joshee's life story will stay with me forever. This book is a treasure for anyone interested in strong, path-breaking women."
-- Jyotsna Sreenivasan, author of And Laughter Fell from the Sky and Aruna's Journeys
"Every significant life needs to be chronicled and remembered ... I am sure the book will inspire, motivate and educate . . ."
-- Sathya Saran, Indian journalist, author, and former editor of Femina