Mort Cinder (The Alberto Breccia Library) (Paperback)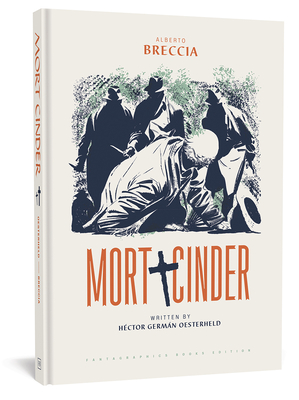 Description
---
This serial follows the wanderings through time, space, and the darkest corners of humanity—from ancient Greece to the mid-20th century—of a man who rises from the grave each time he is killed. 
Alberto Breccia is recognized as one of the greatest international cartoonists in the history of comics and 
Mort Cinder 
is considered one of his finest achievements. Created in collaboration with the Argentine writer Héctor Germán Oesterheld, best known in the U.S. for his politically incendiary sci-fi masterpiece, the Eisner Award-winning 
The Eternaut
, 
Mort Cinder
 is a horror story with political overtones. This episodic serial, written and drawn between 1962–1964, is drawn by Breccia in moody chiaroscuro. The artist's rubbery, expressionistic faces capture every glint in the eyes of the grave robbers, sailors, and slaves that populate these stories; while the slash of stripes of prisoners' uniforms, the trapeziums of Babylon, and more create distinct and evocative milieus. 
About the Author
---
Alberto Breccia (1919–1993) was born in Uruguay and grew up in Argentina. With Hugo Pratt, he cofounded Pan-American School of Arts in Buenos Aires and the Instituto de Arte.

Héctor Germán Oesterheld (HGO) (born July 23, 1919; "disappeared" by the military and presumed dead 1977), was a pioneering Argentine graphic novel and comics writer. Notable works include his science-fiction series El Eternauta, as well as Che, a biography of Che Guevara.
Praise For…
---
Breccia's art just about demands cliche descriptors. It really is eye-popping.


Mort Cinder is a pioneer of the macabre. ... Breccia's ready to match any genre [writer] Oesterheld throws at him — suspense, historical adventure, horror, even science fiction — with a sincere and unpretentious mastery.


Mort Cinder combines horror, adventure, science fiction, and history to offer the perfect showcase for Breccia's visual versatility.


Great news for fans of the astonishingly brilliant South American comic artist Alberto Breccia.