99.1% Pure: Breaking Bad Art (Hardcover)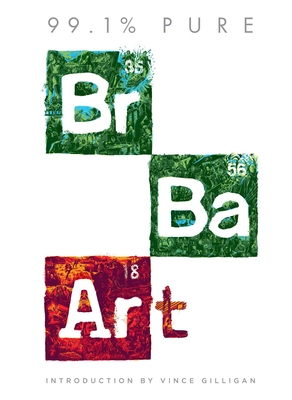 Description
---
"One of the greatest shows in television history." — Indiewire

Discover a stash of incredible art inspired by Breaking Bad and curated by Vince Gilligan, creator of the Emmy Award–winning series.

One of the most acclaimed and popular television series of all time, Breaking Bad left an indelible imprint on the imaginations of viewers around the world. Walter White's transformation from high school chemistry teacher to meth kingpin has inspired thousands of artists to creatively reinterpret the show's stark, stylish visuals and unforgettable characters. 99.1% Pure: Breaking Bad Art brings together an electrifying collection of art from around the globe, personally curated by show creator Vince Gilligan and the Breaking Bad team. Featuring a dazzling array of styles, this one-of-a-kind book is the ultimate tribute to the series and its seismic impact on popular culture.

• Curated by Vince Gilligan: Each work featured in 99.1% Pure: Breaking Bad Art was individually selected by the show's creator and the Breaking Bad team.

• Own the definitive tribute to Breaking Bad: Celebrate one of the most acclaimed television series of all time with this wildly creative and expansive volume of art, the only official Breaking Bad artbook of its kind.

• Over 150 works from around the world: From bold reimaginings of fan-favorite moments to whimsical riffs on iconic characters like Walter White, Jesse Pinkman, Gus Fring, Saul Goodman, Skyler White, and Hank Schrader, this book is a comprehensive collection of art from all over the globe.

• The perfect addition to your home library: This deluxe artbook is a great gift for Breaking Bad fans and a must-have volume for pop art enthusiasts.
About the Author
---
Celebrated for its unwavering dedication to quality, Insight Editions is a publisher of innovative books, journals, and collectibles that push the boundaries of creativity, design, and production. Through its acclaimed film, television, and gaming program, Insight strives to produce unique books and products that provide new ways to engage with fan-favorite characters and stories. Under the program, Insight has published books covering the worlds of Star Wars, Game of Thrones, The Walking Dead, Destiny, Assassin's Creed, Halo, Diablo, World of Warcraft, and the Harry Potter films, among many others. Insight's award-winning art, photography, and sports titles celebrate the artistry and legacy of a wide range of subjects that include John Lennon, Kurt Cobain, Johnny Cash, and The Rolling Stones.

By combining rich subject matter, striking visuals, and exclusive content with imaginative design and production, Insight Editions strives to create unique keepsakes that celebrate the best in pop culture and make one-of-a-kind gifts for fans of all ages.