Family and Borghesia (Paperback)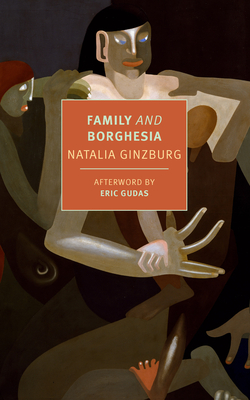 Description
---
Two novellas about domestic life, isolation, and the passing of time by one of the finest Italian writers of the twentieth century.

Carmine, an architect, and Ivana, a translator, lived together long ago and even had a child, but the child died, and their relationship fell apart, and Carmine married Ninetta, and their child is Dodò, who Carmine feels is a little dull, and these days Carmine is still spending every evening with Ivana, but Ninetta has nothing to say about that. Family, the first of these two novellas from the 1970s, is an examination, at first comic, then progressively dark, about how time passes and life goes on and people circle around the opportunities they had missed, missing more as they do, until finally time is up.

Borghesia, about a widow who keeps acquiring and losing the Siamese cats she hopes will keep her company in her loneliness, explores similar ground, along with the confusions of feeling and domestic life that came with the loosening social strictures of the 1970s. "She remembered saying that there were three things in life you should always refuse," thinks one of Natalia Ginzburg's characters, beginning to age out of youth: "Hypocrisy, resignation, and unhappiness. But it was impossible to shield yourself from those three things. Life was full of them and there was no holding them back."
About the Author
---
Natalia Ginzburg (1916–1991) was born Natalia Levi in Sicily, the daughter of a Jewish biologist father and a Catholic mother. She grew up in Turin, in a household that was a salon for antifascist activists, intellectuals, and artists, and published her first short stories at the age of eighteen; she would go on to become one of the most important and widely taught writers in Italy, taking up the themes of oppression, family, and social change. In 1938, she married Leone Ginzburg, a prominent writer, activist, and editor. In 1940, the fascist government exiled the Ginzburgs and their children to a remote village. After the fall of Mussolini, Leone fled to Rome, where he was arrested by Nazi authorities and tortured to death. Natalia married Gabriele Baldini, an English professor, in 1950, and spent the next three decades in Rome, London, and Turin, writing dozens of novels, plays, and essay. NYRB Classics is the publisher of her novel Family Lexicon and two novellas, Valentino and Sagittarius.

Beryl Stockman is a translator, poet, and professional psychic and Tarot reader. She lives in London.

Eric Gudas is the author of Best Western and Other Poems. His work has appeared in The American Poetry Review, The Iowa Review, Poetry Flash, Raritan, and elsewhere.
Praise For…
---
"A glowing light of modern Italian literature . . . Ginzburg's magic is the utter simplicity of her prose, suddenly illuminated by one word that makes a lightning stroke of a plain phrase . . . As direct and clean as if it were carved in stone, it yet speaks thoughts of the heart." —Kate Simon, The New York Times

"The raw beauty of Ginzburg's prose compels our gaze. First we look inward, with the shock of recognition inspired by all great writing, and then, inevitably, out at the shared world she evokes with such uncompromising clarity." —Hilma Wolitzer

"There is no one quite like Ginzburg for telling it like it is. Her unique, immediately recognizable voice is at once clear and shaded, artless and sly, able to speak of the deepest sorrows and smallest pleasures of everyday life." —Phillip Lopate

"[Ginzburg's] stories have a subtle power that catches you at the end. . . each sings with the characteristic wit and piercing clarity of prose that holds you rapt when you read her work." —Lauren Kane, The Paris Review Daily

"Lucid, witty, and heartbreaking. . . [Family is] a superb, unforgettable feast. . . . These two novellas are suffused with the rigorous wisdom Ginzburg earned through calamity and her determination to persist nonetheless in her work." —Lynne Sharon Schwartz, The Los Angeles Review of Books

"There is perhaps no greater archivist of the family lexicon than the Italian novelist Natalia Ginzburg. . . She believed that the words and stories 'heard and repeated countless times' in childhood constituted a 'dictionary of our past'—and, at least in her case, created the conditions for 'family unity.' . . . [Ginzburg] reflects the unvarnished way that close relatives really communicate." —Jess Bergman, Jewish Currents