The Pupil & The Two Magics (Paperback)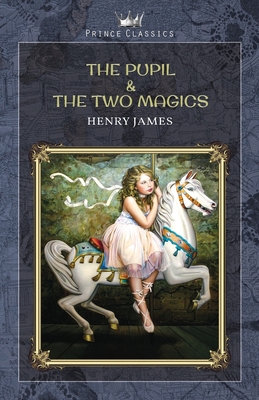 Description
---
The Pupil is a short story by Henry James, first published in Longman's Magazine in 1891. It is the emotional story of a precocious young boy growing up in a mendacious and dishonorable family. He befriends his tutor, who is the only adult in his life that he can trust. James presents their relationship with sympathy and insight, and the story reaches what some would consider the status of classical tragedy.
Pemberton, a penniless graduate of Oxford, takes a job to tutor Morgan Moreen, aged eleven, a brilliant and somewhat cynical member of a wandering American family. His mother and father refuse to pay Pemberton as they jump their bills from one hotel to another in Europe. Pemberton grows to dislike all the Moreens except Morgan, including older brother Ulick and sisters Paula and Amy.
Morgan, who is afflicted with heart trouble, advises Pemberton to escape his family's baleful influence. But Pemberton stays on because he has come to love and admire his pupil and he hopes for at least some eventual payment. Pemberton finally has to take another tutoring job in London simply to make ends meet. He is summoned back to Paris, though, by a telegram from the Moreens that says Morgan has fallen ill.
It turns out that Morgan is healthy enough, though the fatal day arrives when his family is evicted from their hotel for nonpayment. Morgan's parents beg Pemberton to take their son away with him while they try to find some money. Morgan is ecstatic at the prospect of leaving with Pemberton, but the tutor hesitates. Morgan suddenly collapses with a heart attack and dies. In the story's ironic final note, James says that Morgan's father takes his son's death with the perfect manner of "a man of the world."
The Turn of the Screw is an 1898 horror novella by Henry James that first appeared in serial format in Collier's Weekly magazine (January 27 - April 16, 1898). In October 1898 it appeared in The Two Magics, a book published by Macmillan in New York City and Heinemann in London. Classified as both gothic fiction and a ghost story, the novella focuses on a governess who, caring for two children at a remote estate, becomes convinced that the grounds are haunted.
In the century following its publication, The Turn of the Screw became a cornerstone text of academics who subscribed to New Criticism. The novella has had differing interpretations, often mutually exclusive. Many critics have tried to determine the exact nature of the evil hinted at by the story. However, others have argued that the brilliance of the novella results from its ability to create an intimate sense of confusion and suspense within the reader.
The novella has been adapted numerous times in radio drama, film, stage, and television, including a 1950 Broadway play, the 1961 film The Innocents, and a 2020 modern adaptation named The Turning.
On Christmas Eve, an unnamed narrator, along with some other unnamed characters, listens to Douglas, a friend, read a manuscript written by a former governess whom Douglas claims to have known and who is now dead. The manuscript tells the story of how the young governess is hired by a man who has become responsible for his young nephew and niece after the deaths of their parents. He lives mainly in London but also has a country house, Bly. He is uninterested in raising the children.
The boy, Miles, is attending a boarding school, while his younger sister, Flora, is living in a summer country house in Essex. She is currently being cared for by Mrs. Grose, the housekeeper. Miles and Flora's uncle, the governess's new employer, gives her full charge of the children and explicitly states that she is not to bother him with communications of any sort. The governess travels to her new employer's country house and begins her duties.