The Author of Beltraffio & The Beast in the Jungle (Paperback)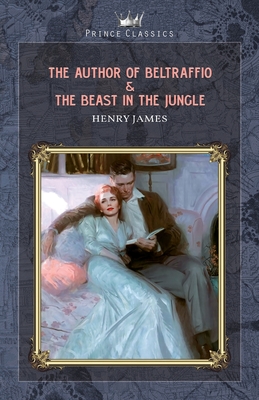 Description
---
The Author of Beltraffio is a short story by Henry James, first published in the English Illustrated Magazine in 1884. This macabre account of desperate family infighting eventually leads to a tragic conclusion. Although the father in the story is a novelist, the tale concentrates far more on his family relationships than on his special concerns as a writer, though some of those concerns affect the outcome.
The narrator of the story, a somewhat naive American admirer of English novelist Mark Ambient, visits the writer at his home in Surrey. The narrator is very enthusiastic about Ambient's work, especially his latest novel Beltraffio. He meets Ambient's beautiful but chilly wife, his sickly seven-year-old son Dolcino, and his strange sister Gwendolyn. He also learns that Ambient's wife strongly dislikes her husband's novels and considers them corrupt and pagan.
Dolcino eventually becomes much more ill. In order to "protect" him from what she sees as the baleful influence of his father, Ambient's wife withholds the boy's medicine. Dolcino dies, and the details of his mother's conduct are told to the narrator by Gwendolyn. The mother, grief-stricken over her role in Dolcino's final illness, dies herself after a few months. In a grimly ironic note to conclude the story, the narrator says Ambient later revealed that his wife had become partially reconciled to his novels and even read Beltraffio in the weeks before her death.
The Beast in the Jungle is a 1903 novella by Henry James, first published as part of the collection, The Better Sort. Almost universally considered one of James' finest short narratives, this story treats appropriately universal themes: loneliness, fate, love and death. The parable of John Marcher and his peculiar destiny has spoken to many readers who have speculated on the worth and meaning of human life.
John Marcher, the protagonist, is reacquainted with May Bartram, a woman he knew ten years earlier while living in southern Italy, who remembers his odd secret: Marcher is seized with the belief that his life is to be defined by some catastrophic or spectacular event, lying in wait for him like a "beast in the jungle". May decides to buy a house in London with the money she inherited from a great aunt, and to spend her days with Marcher, curiously awaiting what fate has in store for him. Marcher is a hopeless fatalist, who believes that he is precluded from marrying so that he does not subject his wife to his "spectacular fate".
He takes May to the theater and invites her to an occasional dinner, but does not allow her to get close to him. As he sits idly by and allows the best years of his life to pass, he takes May down as well, until the denouement where he learns that the great misfortune of his life was to throw it away, and to ignore the love of a good woman, based upon his preposterous sense of foreboding.