Happy Plant: A Beginner's Guide to Cultivating Healthy Plant Care Habits (Paperback)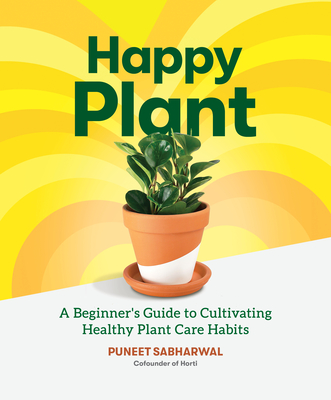 $24.95

Usually Ships in 1-5 Days
Description
---
Foreword by Morgan Doane and Erin Harding, co-authors of How to Raise a Plant and Make it Love You Back and co-founders of @HouseplantClub.

This comprehensive visual guide to houseplant care is packed with illustrations and hand drawings, color photography, accessible infographics, and advice for first-time and experienced plant parents alike.

Build confidence in tending indoor plants through this guide to basic plant care, all while learning about the history of houseplants, how they communicate, and sustainable ways to troubleshoot houseplant parenting issues. Whether you're afraid to bring home a plant or have a healthy row of potted green pals on your windowsill, this book will walk you through the trials, errors, and joys of plant care.

Perfect for those who are new to gardening or who want to learn more about how plants enrich our lives, this how-to guide from Puneet Sabharwal, cofounder of popular plant subscription company Horti, is a verdant treasure trove of information on how to raise your very own houseplants.
About the Author
---
Puneet Sabharwal is the CEO and cofounder of Horti, a plant subscription company based in Brooklyn, NY. Raised in North India, Sabharwal spent his childhood living in a religious commune with his family and is currently training to become a psychedelic therapist. He cares for more than seventy houseplants in his Greenpoint apartment, where he loves to host folks for chai-time. Happy Plant is Sabharwal's first book.
Praise For…
---
""This illustrated guide explains not only how to care for your houseplant, but also how your houseplant will care for you."
–
The Bookseller (UK)
,
"
"Sabharwal's book is full of personality while also being informative about how to start taking care of plants. There is so much love for plants in the author's advice that this would make a wonderful read for both beginners and people who are somewhat experienced with indoor gardening."
-- Washington Gardener
"In four information-dense chapters, this French import explores tree structure, growth, reproduction, and products. A fifth section surveys some unusual tree species. Interested readers will come away with a solid grasp of botanical vocabulary and biological processes, including tree self-defense and communication....The in-depth treatment may limit the book's audience, but for tree-lovers feeding a passion, it will be welcome."
– The Horn Book Guide
"An excellent guide to keeping plants alive and well….Even those with the least green of thumbs can be redeemed with these tips.
– Publishers Weekly