Smithsonian Kids All-Star Readers: Dinosaurs Level 2 (Paperback)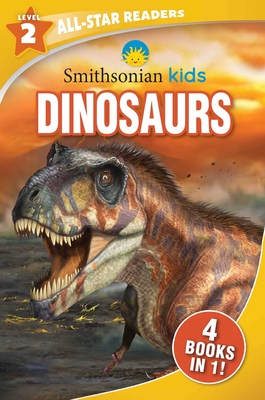 Description
---
Dig into the world of dinosaurs with this level 2 Smithsonian reader that can boost reading comprehension and is packed with colorful illustrations!

Roar with the dinosaurs and learn to read with the Smithsonian! Smithsonian Kids All-Star Readers: Dinosaurs Level 2 includes four dinosaur readers that cover everything from T. rex to fossils. Developed with esteemed childhood literacy expert Dr. Adria Klein, this collection is designed to encourage reading comprehension through simple factual texts, new phonic structures, familiar vocabulary, and more. Colorful illustrations on each page of this level 2 reader enhance the text. After finishing each reader, children can use the quizzes and glossaries to reinforce reading comprehension.
About the Author
---
For nearly 20 years, Silver Dolphin Books has published award-winning activity, novelty, and educational nonfiction books for preschoolers to 12-year-olds. Our focus is to create books that engage and inspire children to learn more about the world around them while fostering a love of reading, exploration, and creative expression. From adorably illustrated board books for toddlers, to interactive play and building sets, to sound books made for story time, we develop innovative books that both enlighten and entertain.

Franco Tempesta was born in Milan, Italy. Since he was a child, he loved drawing animals, dinosaurs, and dragons. Specializing in naturalistic illustration, in the last ten years he has focused his attention on the realization of realistic images of dinosaurs and primitive mammals. He has collaborated with national and foreign publishers, such as Smithsonian, National Geographic, Random House, Firecrest Publishing, Geoworld, and important advertising agencies of Italy. Since 1990, he has been a member of the Italian Illustrators Association. In April 2014, the Museum of Paleontology of Naples hosted a permanent exhibition dedicated to his illustrations of dinosaurs. Franco Tempesta loves nature, the sea, diving, and traveling.