Montana Legacy (Paperback)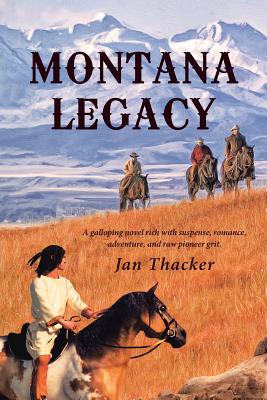 $19.95

Usually Ships in 1-5 Days
Description
---
The Whitmore brothers, as wild as the Montana Territory they love, struggle to find their place in a changing land. Horses are giving way to sputtering and lurching automobiles, lanterns replaced by electrification, outhouses to indoor privies, and Indians are increasingly regulated by the government.
As if these changes aren't enough, now a crazy stroke of luck promises to change their lives forever.
Can these three ragged vagabonds be tamed? One woman thinks so, and, with the help of an old Blackfeet Indian named Iron Wing, she's ready to hogtie the brother named Frank and call him her own.
Montana Legacy, a gem of storytelling, is Jan Thacker's third novel and contains not only an in-depth peek at family interactions, but a huge dollop of her trademark humor. This carefully woven tale celebrates the settling of Montana while exploring and commemorating the noble lifestyle of Montana's Blackfeet Indians and the demise of these cherished ways of life in the name of progress.
Montana Legacy is a somber, funny, full-of-life novel that is rich with the heritage of Montana and captures the bold spirit and passions of the people who dared to call this rugged land home.