Everything Must Go (Paperback)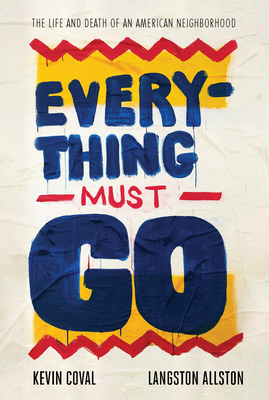 Description
---
Everything Must Go is an illustrated collection of poems in the spirit of a graphic novel, a collaboration between poet Kevin Coval and illustrator Langston Allston.
The book celebrates Chicago's Wicker Park in the late 1990's, Coval's home as a young artist, the ancestral neighborhood of his forebears, and a vibrant enclave populated by colorful characters. Allston's illustrations honor the neighborhood as it once was, before gentrification remade it.
The book excavates and mourns that which has been lost in transition and serves as a template for understanding the process of displacement and reinvention currently reshaping American cities.
About the Author
---
Kevin Coval is a poet and community builder. As the artistic director of Young Chicago Authors, founder of Louder Than A Bomb: The Chicago Youth Poetry Festival, and professor at the University of Illinois-Chicago--where he teaches hip-hop aesthetics--he's mentored thousands of young writers, artists and musicians. He is the author and editor of ten books, including The BreakBeat Poets: New American Poetry in the Age of Hip-Hop and Schtick, and co-author of the play, This is Modern Art. His work has appeared in Poetry Magazine, The Drunken Boat, Chicago Tribune, CNN, Fake Shore Drive, Huffington Post, and four seasons of HBO's Def Poetry Jam. Langston Allston is a painter and muralist based in New Orleans, Louisiana. He uses his art practice as a way to tell stories, drawn from his own experience, and from the experiences of people in his community, drawing a thread between the past and the present.