Baby's First Year Milestones: 150 Games and Activities to Promote and Celebrate Your Baby's Development (Paperback)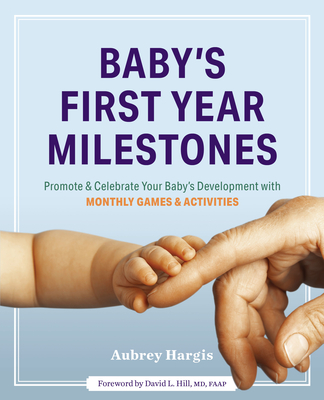 $16.99

Usually Ships in 1-5 Days
Description
---
Baby's First Year Milestones is a month-by-month guide filled with activities designed to support your baby's development during their first year of life.
In twelve months, your newborn will transform into a child. To celebrate each new development,
Baby's First Year Milestones
offers a practical month-by-month guide to understanding the major milestones in your child's life.
In
Baby's First Year Milestones
, child development expert Aubrey Hargis offers knowledgeable insight into the changes you can expect during the first year, as well as action-oriented guidance for supporting your baby during these essential periods of growth.
Baby's First Year Milestones
includes:
Clear descriptions of major developmental milestones for every month of the baby's first year, including a checklist of all major milestones to help you track your baby's development
Over 150 age-appropriate activities that are specifically designed to encourage learning at each developmental stage during your baby's first year
Explanations and solutions for common problems that may arise during the baby's first year, including feeding issues, sleep regressions, "stranger danger," and more
With
Baby's First Year Milestones
you'll learn exactly how to help your child explore their new abilities as they develop, while having fun and strengthening your oh-so important bond.
About the Author
---
AUBREY HARGIS, MEd, is a parent coach and educational consultant best known for her empathetic approach and appreciation for the magic of childhood. As the founder of the Child Development Institute of the Redwoods, she creates online courses and coaches parents in compassionate discipline techniques and Montessori education. Visit her online at ChildoftheRedwoods.com.

DR. DAVID L. HILL is a pediatrician, author, speaker, and consultant who practices in North Carolina. He serves as Chair of the American Academy of Pediatrics Council on Communications and Media and is an Adjunct Assistant Professor of Pediatrics at the UNC School of Medicine. For more information, visit doctordavidhill.com.
Praise For…
---
"Aubrey has carried her graceful way of mentoring others into her book, Baby's First Year Milestones. This book is filled with simple ways to increase your connection with your child and your child's connection to the new world around them. The games and activities coincide with your child's general milestones which, in turn, will stimulate language, growth, and development. So many of these games and activities can be done inexpensively, which is an added bonus. I can't think of a better gift for a new baby and her parents!"—Loree Birkenback, Head of School, St. James Episcopal School of Dallas

"This book is a month-by-month journey guided by an experienced parent who feels like a friend walking alongside you. Each month contains milestones, highlights, challenges, and games and activities which are supportive to the relationship between a parent and child. This book is full of information which speaks to the wonder and worries of parents during their first year with a new baby. It is a keepsake, with places for journaling what is observed and experienced, and this allows this experiential process to feel personal and empowering. I have not read another book like this one, and as an educator of the young child, a childbirth educator, parenting mentor, and midwife, I have read many over the years."—Pamela Green, Founder of Ananda Montessori, Parenting Mentor, CBE, and Birth Attendant

"Baby's First Year Milestones is an excellent month-by-month guide on how to play with your infant! Aubrey does a beautiful job of emphasizing the importance of talking to your baby to develop their cognitive and language skills, helping them to learn through everyday routines. Filled with simple activities that you can do and make with items you already have at home, it is easy to read and reference for new ideas each month!"—Kelli Atangan, MS, CCC-SLP, Speech Language Pathologist and mom of three

"As a lactation consultant, I work with first-time parents all the time who want to know what's normal. Baby's First Year Milestones is a wonderful resource for any new parent to understand their infant's development month by month."—Beth Waters Rago, IBCLC