Establishing Boundaries with Kids: A Parent's Guide to Negotiating Limits and Improving Parent-Child Interactions (Paperback)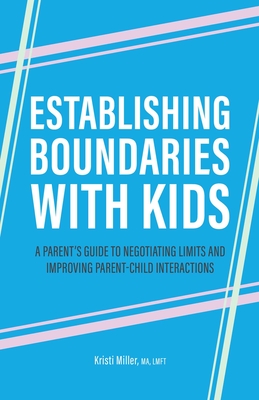 $13.99

Usually Ships in 1-5 Days
Description
---
Create a happier home through healthy boundaries
Parenting is incredibly rewarding—and also full of frustrating moments. This is especially true if you're raising a spirited and strong-willed child. Fortunately, with this guide in hand, you can learn how to build healthy boundaries that foster better behavior, reduce tension, and generate mutual respect.
What sets this boundaries book apart from other parenting books:
A comprehensive overview—Gain a thorough understanding of what it means to set boundaries as you explore the four main types, the major benefits, and how they're integral to healthy relationships.
Strategies for setting rules—Learn how to establish clearly defined age-appropriate rules and how to enforce them through consistency and open communication.
Relatable anecdotes—Find reassurance that you're not alone, with stories inspired by real life that illustrate these strategies in action.
Cultivate calm and encourage good behavior with help from
Establishing Boundaries with Kids
.
About the Author
---
KRISTI MILLER, LMFT, is a parent educator, lecturer, family mediator, and psychotherapist. As the founder of Solutions in Parenting, she works closely with families to help them foster respectful and loving relationships. Kristi is a proud mom of three.
Praise For…
---
"After over 30 years leading in both corporate and private foundations dedicated to supporting families and early childhood care and education, I sure wish we would have had Kristi Miller's Establishing Boundaries With Kids available to give all our grantees. This book would have provided simple, clear advice on effective ways to be better parents, teachers, childcare providers, and everyone who wants to get kids and families started right. Kristi's distinguished professional career as a child and family psychotherapist gives her unique and practical insights about what does and doesn't work. Every parent (and grandparent) should have a copy of this common-sense guide. We should have had it when our sons were little!" —Gene Wilson, Ret. SVP, EM Kauffman Foundation

"As a growth and leadership coach, I can tell you that boundaries are a top 5 challenge with my clients—from CEOs to college students. Kristi Miller's insight and real-world tools for creating boundaries with our children are invaluable. The lessons are universal—as you practice setting and holding boundaries with your children, your own self-growth and impact in the world will amplify tenfold. Establishing Boundaries With Kids is a must-have for any parent AND human!" —Amy K Musson, growth & leadership coach, host of The Growth Moment podcast

"Attention parents and teachers/counselors: a must-have guide to building effective relationships with children is here! This complete and accessible book gives clear guidance on how to establish necessary and loving boundaries for young people, helping them grow into successful adults. Kristi Miller's seasoned and well-rounded experience with children and families is on display. Thank you!" —Lisa Benson, PsyD, clinical psychologist, mother of two