The Great Man Theory (Hardcover)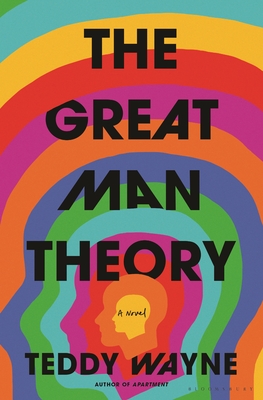 Description
---
"At its finest, a worthy successor to those seriocomic novels of Bellow." –Brandon Taylor, The New York Times Book Review

Named a Most Anticipated Book of 2022 by Esquire, LitHub, Publisher's Lunch, Dandelion Chandelier, and Chicago Review of Books

From acclaimed, Whiting Award-winning author Teddy Wayne, the hilarious, incisive, yet deeply poignant story of a liberal armchair-revolutionary desperate to save America from itself.

Paul is a recently demoted adjunct instructor of freshman comp, a divorced but doting Brooklyn father, and a self-desc­ribed "curmudgeonly crank" cataloging his resentment of the priorities of modern life in a book called The Luddite Manifesto. Outraged by the authoritarian creeps ruining the country, he is determined to better the future for his young daughter, one aggrieved lecture at a time.

Shockingly, others aren't very receptive to Paul's scoldings. His child grows distant, preferring superficial entertainment to her father's terrarium and anti-technological tutelage. His careerist students are less interested than ever in what he has to say, and his last remaining friends appear ready to ditch him. To make up for lost income, he moonlights as a ride-share driver and moves in with his elderly mother, whose third-act changes confound and upset him. As one indignity follows the next, and Paul's disaffection with his circumstances and society mounts, he concocts a dramatic plan to right the world's wrongs and give himself a more significant place in it.

Dyspeptically funny, bubbling over with insights into America's cultural landscape and a certain type of cast-aside man who wants to rectify it, The Great Man Theory is the work of a brilliant, original writer at the height of his powers.
About the Author
---
Teddy Wayne is the author of Apartment, Loner, The Love Song of Jonny Valentine, and Kapitoil. He is the winner of a Whiting Writers' Award and an NEA Creative Writing Fellowship as well as a finalist for the Young Lions Fiction Award, the PEN/Bingham Prize, and the Dayton Literary Peace Prize. A former columnist for the New York Times and McSweeney's and a frequent contributor to The New Yorker, he has taught at Columbia University and Washington University in St. Louis.
Praise For…
---
"A sharp, funny novel...a kind of update of Kurt Vonnegut . . . Wayne is an inheritor, too, of Vonnegut's style-winkingly funny, brisk, broadly satirical." —L.A. Times

"Wise and grimly funny, Wayne's dyspeptic satire of the Trump years paints a vivid portrait of male misery." —Esquire

"Wayne turns the smug woundedness of the contemporary liberal into an amusing social comedy that is, at its finest, a worthy successor to those seriocomic novels of Bellow." —Brandon Taylor, author of Real Life, in The New York Times Book Review

"There's perhaps no living writer better at chronicling the most crucial emotional flash points of the young modern male than Teddy Wayne." —The A.V. Club

"The best summer 2022 novel . . . incredible hijinks of cringe-worthy humor . . . a page-turner . . . The ending is heart-pounding and fascinating . . . will probably make you think differently about how you feel about, well, everything." - Fatherly

"A wickedly insightful novel about modern America." - St. Louis Post-Dispatch

"A picture of the world as we know it, from the point of view of a funny, aggravating man, The Great Man Theory is an original and discomfiting portrait of the individual in the collective, as he tries to make his mark." —Literary Hub's Most Anticipated List of the Year

"Wayne is a bard of male failure, insecurity, and resentment . . . a gifted writer with a talent for deft sketching . . . a canny mimic of the dialogue of the liberal chattering classes . . . The novel's plotting is tight, meticulous . . . The reader bounces between the brisk chapters." - Washington Examiner

"An engrossing political novel... it asks a crucial question: What is an individual's responsibility to make the world better? . . . Perfectly tuned . . . Compelling." —New York Journal of Books

"A compelling portrait of a man driven to the brink in a culture that he understands both all too well and not at all . . . produce[s] both winces and laughter . . . Part character study, part social satire, The Great Man Theory is fully a document of our troubled times." - Bookreporter

"[A]n exquisite balancing act between the farcical and the devastatingly sad." —Kirkus Reviews

"Wayne's attention to detail and language serves almost as a surgeon's scalpel, gently peeling back layered topics--friendship, class, sexuality--to reveal an engrossing survey of male insecurity and frailty . . . Carefully written and evocative with an airtight plot." —Salon on APARTMENT

"A sharp, bitter critique of our culture wars, technological dependency, and general intellectual malaise." - Vol. 1 Brooklyn