Cyclorama (Hardcover)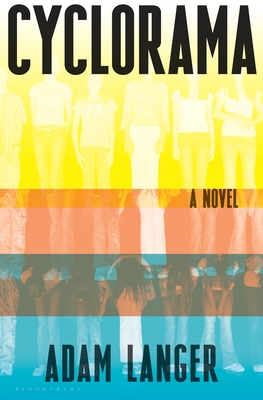 Description
---
The deeply moving, propulsive story of ten teenagers brought together by a high school production of The Diary of Anne Frank that will shape and influence the rest of their lives.

Evanston, Illinois, 1982. A group of students at a magnet high school meet to audition for the spring play. They are eager for the chance to escape their difficult everyday lives. Declan, an experienced senior, is confident he'll get his first-choice role, but when the capricious, charismatic drama director casts Franklin, an unknown underclassman-and the two are seen alone at the director's house-a series of events that will haunt the cast for years begins to unfold.

2016. The actors have moved on with their lives. Some are wildly successful, some never left their hometown, and some just want to be left alone. Everything changes, however, when one former cast member comes forward with an allegation dating back to the time of the play. The consequences of this public revelation will be far-reaching and complex, reverberating through all of their lives in unexpected ways.

Cyclorama is a deeply compelling story of ordinary people that brilliantly cuts to the core of what makes us who we are and how our pasts reverberate into our present and future. With remarkable tenderness and humanity, Langer reveals how the traumas of our youth continue to echo throughout our lives, in our politics, in our careers, and in ourselves.
About the Author
---
Adam Langer is a journalist, editor, and the author of a memoir and five novels including The Washington Story, Ellington Boulevard, The Thieves of Manhattan, The Salinger Contract, and the internationally best-selling novel Crossing California, which was described in the Chicago Tribune by James Atlas as "the most vivid novel about Chicago since Saul Bellow's Herzog and the most ambitious debut set in Chicago since Philip Roth's Letting Go." Formerly a senior editor at Book Magazine and a frequent contributor to the New York Times, he currently serves as culture editor at The Forward.
Praise For…
---
"Langer has that rare combination of fierce intelligence, wicked wit and the ability to make you turn pages at wrist-splintering speed." —USA Today

"As the old saying goes, comedy equals tragedy plus time. Adam Langer's new novel, Cyclorama, significantly complicates that equation . . . Langer is as good a prop master as the one for Netflix's Stranger Things, judiciously peppering his pages with relics from the past . . . the literary equivalent of a Mary Lou Retton tumbling pass." —New York Times

"Cyclorama is an engaging novel, full of funny, sweet, arrogant, flawed humans behaving very badly indeed. Adam Langer has created a tender coming-of-age story with sharp teeth; I loved it." —Audrey Niffenegger, author of THE TIME TRAVELER'S WIFE

"I tore through Adam Langer's Cyclorama in a weekend. It's compelling, heartfelt, has immaculate pacing, and the characters feel real and important. Truly a rewarding reading experience." —Jami Attenberg, author of ALL THIS COULD BE YOURS

"Adam Langer is that rare combination of a writer. He has a sharp eye to details and explores human relations with keen insight and wry humor, and at the same time shows profound compassion to our fragile existences and longings." —Elif Shafak, author of THE ISLAND OF MISSING TREES

"Cyclorama is compellingly readable and is at its heart a story of empathy, resilience and redemption. I couldn't put it down!" —Joey Soloway, creator of TRANSPARENT and I LOVE DICK

"[A] stunning novel that weaves together past and present . . . Langer has a wonderful talent for not only recontextualizing The Diary of Anne Frank in two different eras in American history, but for allowing the inverse of optimism and idealism to rise to the surface." —New York Journal of Books

"Langer brilliantly braids 1980s America with the Trump era in his inventive latest… Thrilling and unexpected… Readers will applaud Langer's outstanding performance" —Publishers Weekly, starred review

"[A propulsive novel, marked with [Langer's] sharp cultural insights and uncanny talent for seasoning tragedy with wit that raises moral questions." - National Book Review

"Finely wrought, raucously funny, and startlingly insightful." - Chicago Review of Books

"[Langer] has cre­at­ed a rich set of char­ac­ters who illus­trate the ambi­gu­i­ty of high school and the haunt­ing ways in which events from that time linger." —Jewish Book Council

"Funny... Deeply moving... Langer's novel reveals how the past echoes through the present and continues to shape our futures." —BookPage, starred review

"A page-turning novel that is by turns funny, despairing and even affirming, a complex and powerful mix." - Chicago Tribune

"With families doting and dysfunctional, teens aspiring and despairing, and Anne Frank's story mirroring current humanitarian crises, Langer's cycloramic tale of dirty tricks, moral reasoning, and learning to love is smart, captivating, funny, appalling, and tender." —Booklist

"In its evocation of Chicago in the 1980s, and in its understanding of how the past forever hangs over us-culturally, politically, and personally-Cyclorama is both astute and winning. Adam Langer writes about a vast array of characters, every one of whom comes remarkably to life. This is a dazzlingly good book." —Joshua Henkin, author of MORNINGSIDE HEIGHTS

"Cyclorama by Adam Langer is one of the most exciting novels I've read in a long time. It takes a group of high school students through the experience of acting in The Diary of Anne Frank in high school, and then catches up with their lives in 2016. It's gripping and it's heartbreaking and sometimes it's very funny, and it stays with you." —Austin Pendleton, Mr. Dussel in the Tony-nominated revival of THE DIARY OF ANNE FRANK

"In this propulsive novel that explores the fallout of adolescent trauma, Langer evokes his vast array of characters with the deepest empathy and beautifully conjures Chicago in the 80's. Cyclorama is ambitious in its scope and does what all great art does: it helps us understand who we are as we struggle through this moment." —Jai Chakrabarti, author of A PLAY FOR THE END OF THE WORLD

"I've been a huge fan of Adam Langer's ever since his brilliant debut Crossing California. Cyclorama once again confirms that he's a writer who can do anything--ten points of view spanning 34 years all centered around a high school play of Anne Frank. It's a novel that investigates how adolescent trauma manifests itself though adulthood; it's also impossible to put down." —Willy Vlautin, author of THE NIGHT ALWAYS COMES and LEAN ON PETE

"At once ambitious and compassionate, Cyclorama is Adam Langer's best novel yet. Langer's meticulous, almost hypnotic powers of observation reveal people as well as times and places in almost granular detail. The result is an affecting novel of unusual power." —Nicholas Meyer, author of THE ADVENTURE OF THE PECULIAR PROTOCOLS

"From the incomparable Adam Langer comes a novel firmly rooted in the present, and yet here the past not only haunts, it nearly dictates. And doesn't it? Langer has captured, in these pages, the true weight of the past. I found Cyclorama to be propulsive, generous to its flawed souls, and, finally, incredibly moving." —Peter Orner, author of MAGGIE BROWN & OTHERS and AM I ALONE HERE?

"Fluidly written, formally inventive, by turns caustic and kind, tender and funny-Cyclorama offers up a kaleidoscopic array of characters who contend with timeless moral dilemmas and the present American moment. It's as smart and accomplished a novel as I've come across in recent years." —David Bezmozgis, author of THE BETRAYERS

"It's almost scary how well Adam Langer has captured the unsupervised fever dream that was adolescence in the early 1980s. Even more moving is the way Langer understands, and makes us feel, the long reach of the past. I loved this funny, wise, sharply observed book." —Claire Dederer, author of LOVE AND TROUBLE