In West Mills (Hardcover)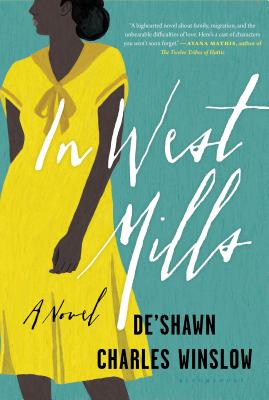 Staff Reviews
---
It's 1941 in West Mills, a small and mostly African-American town, and Azalea "Knot" Centre is uninterested in conforming to anyone's expectations of her. She's fierce, smart, and confidently in her love of booze and sex. When her parents cast her out, she finds her family in a handful of close friends and neighbors... all of whom have problems of their own, of course. Winslow has created a terrific group of characters, and put together a wonderful story about lifelong friendship. and the secrets and choices that go along with that territory.
— Erika
Description
---
"A bighearted novel about family, migration, and the unbearable difficulties of love. Here's a cast of characters you won't soon forget." Ayana Mathis, author of The Twelve Tribes of Hattie
"Winslow's impressive debut novel introduces readers to both a flawed, fascinating character in fiction and a wonderful new voice in literature." Real Simple, Best Books of 2019

A New York Times Book Review Editors' Choice

Named a Most Anticipated Novel by
TIME MAGAZINE * USA TODAY * ENTERTAINMENT WEEKLY * NYLON * SOUTHERN LIVING * THE LOS ANGELES TIMES * ESSENCE * THE MILLIONS * REAL SIMPLE* HUFFINGTON POST * BUZZFEED
Azalea "Knot" Centre is determined to live life as she pleases. Let the people of West Mills say what they will; the neighbors' gossip won't keep Knot from what she loves best: cheap moonshine, nineteenth-century literature, and the company of men. And yet, Knot is starting to learn that her freedom comes at a high price. Alone in her one-room shack, ostracized from her relatives and cut off from her hometown, Knot turns to her neighbor, Otis Lee Loving, in search of some semblance of family and home.
Otis Lee is eager to help. A lifelong fixer, Otis Lee is determined to steer his friends and family away from decisions that will cause them heartache and ridicule. After his failed attempt as a teenager to help his older sister, Otis Lee discovers a possible path to redemption in the chaos Knot brings to his doorstep. But while he's busy trying to fix Knot's life, Otis Lee finds himself powerless to repair the many troubles within his own family, as the long-buried secrets of his troubled past begin to come to light.
Set in an African American community in rural North Carolina from 1941 to 1987, In West Mills is a magnificent, big-hearted small-town story about family, friendship, storytelling, and the redemptive power of love.
About the Author
---
De'Shawn Charles Winslow was born and raised in Elizabeth City, North Carolina. He is a 2017 graduate of the Iowa Writers' Workshop and holds a BFA in creative writing and an MA in English literature from Brooklyn College. He lives in New York.
Praise For…
---
"From the first page, Winslow establishes an uncanny authority and profound tone that belie the book's debut status. The precision and charm of his language lure us in and soothe us…He paints a community so tightknit and thorough it becomes easy to forget the people in it don't exist… Much of the story is told through dialogue, rich and truthful conversations among characters reminiscent of those in August Wilson's plays, expressing so much more than what is on the surface." - The New York Times Book Review
"This debut novel flits from 1941 to 1987 charting the life of Knot, a smart, obstinate woman in her twenties who teaches school in a mostly African-American town in North Carolina…The town is full of secrets, and the novel rollicks through revelations of true parentage and hidden lives." - The New Yorker

"Winslow's quietly glorious novel is dedicated "To the reader," and it engages on a level that's appropriately intimate… In this tiny, deeply interwoven community, friends are more like siblings, siblings compete for the same lovers, babies given up for adoption don't land far from their birth home, and everyone has a stake in shared secrets – sometimes handed down, sometimes withheld – across generations." - Boston Globe
"Winslow pens layers of complexity in a narrative that is surprising and irresistible at every turn... "In West Mills" is a refreshing and arresting book that shines a light on a woman who rebels against society's strict and unforgiving social norms, despite the costs." - The Atlanta Journal Constitution
"De'Shawn Charles Winslow is in possession of a voice, one that's not only pitch-perfect but also arresting and important and new. It's a voice that's by turns funny and heartbreaking and beautiful, much like the characters of In West Mills themselves. This novel will grab you first by the ears, and then by the hand, and then by the heart." - Rebecca Makkai, author of THE GREAT BELIEVERS
"In West Mills is remarkable in its ability to create a fully realized world, the kind that feels like you must have visited before, a place where you'd happily spend all your time.... Winslow's writing is full of compassion and wit and generosity; he skillfully weaves together a story of the power of love and friendship, and their ability to redeem even the most troubled souls. This is the kind of book that leaves you smiling, with faith in humanity, and in art's ability to be gracious and redemptive." - Nylon
"Azalea Centre – known to the residents of her African American community in rural North Carolina as Knot – is one of the most memorable characters to come along in recent fiction." - Newsday
"It's impossible not to fall in love with Azalea "Knot" Centre, the star of In West Mills…In West Mills follows Knot, Otis Lee, their families, friends, and neighbors, from 1941 to 1987, exploring the bonds of friendship, the weight of secrets, and all of the sacrifices we make in our attempts to live a self-determined life." - Buzzfeed
"Winslow's impressive debut novel introduces readers to both a flawed, fascinating character in fiction and a wonderful new voice in literature." - Real Simple, Best Books of 2019
"In West Mills offers a languid, hazy feeling, somewhat like walking barefoot down a dusty Carolina road on a summer's day. It makes you want to linger." - The Philadelphia Tribune
"Winslow's stellar debut follows the residents of a black neighborhood in a tiny North Carolina town over the course of several decades . . . Winslow has a finely tuned ear for the way the people of this small town talk, and his unpretentiously poetic prose goes down like a cool drink of water on a hot day." - Publishers Weekly, Starred Review
"De'Shawn Charles Winslow has a rare and blessed gift for writing characters who live and breathe and struggle and love one another and attain, in their imperfect, human way, a miraculous grace. The scope of this slim novel astonishes me: it encompasses an entire world." - Garth Greenwell, author of WHAT BELONGS TO YOU
"This tender, exuberant, and impressively crafted debut novel spans decades of family upheaval and painful secrets in telling the story of a freethinking black woman in a tightly knit Carolina community. . . in the brave, hard-bitten, but deeply vulnerable Knot, Winslow has created a character as memorable and colorful as any created by Knot's favorite writer, Charles Dickens." - Kirkus Reviews, Starred Review
"Reminiscent of August Wilson's 10-play cycle marking each decade in 20th-century African-American history, In West Mills telescopes four decades into a densely packed drama. . . What distinguishes West Mill's melodrama from episodic TV, however, is the real-life, unglamorous attitudes of ordinary people. . . . In West Mills exemplifies the timeless adage that it takes a village to raise one another. This is a historical fiction triumph." - BookPage, starred review
"Beginning in the 1940s and spanning 40 years, Winslow's debut novel shares themes of acceptance and the importance of community through the eyes of a fierce, memorable anti-heroine . . . Winslow is a natural storyteller whose writing is like a mash-up of Zora Neale Hurston and Edward Kelsey Moore, and his characters spark to life, especially Knot, who Winslow magically makes both enraging and endearing. . . its humor and heart will win over many readers." - Booklist
"In West Mills by De'Shawn Charles Winslow is an enthralling debut from a masterful writer. Prepare to be captivated by the community of West Mills, with its deep secrets and even deeper friendships. I love this compassionate, profound book." - Helen Phillips, author of THE BEAUTIFUL BUREAUCRAT
"Reading In West Mills is like joining a new family, one you didn't know you needed to be part of. De'Shawn Winslow's stubborn, vivid characters will take over your imagination; you'll worry about Knot's drinking and Breezie's wanting two of everything and the many women Otis Lee loves. And when you get to the end you'll wonder how this short novel contains so many lives, so much wit and warmth. A stunning debut." - Margot Livesey, author of THE FLIGHT OF GEMMA HARDY
"In West Mills is full of vernacular riches. In it, De'Shawn Winslow and his characters show themselves to be masters of what Zora Neale Hurston referred to admiringly in African American expression as 'drama' and the 'will to adorn.' Readers won't be able to resist falling for the people who populate this striking debut novel, which is a treasure of humor, warmth, and wisdom." - Jamel Brinkley, author of A LUCKY MAN
"Winslow's impressive debut novel introduces readers to both a flawed, fascinating character in fiction and a wonderful new voice in literature." - Real Simple, Best Books of 2019
"In West Mills offers a languid, hazy feeling, somewhat like waking barefoot down a dusty Carolina road on a summer's day. It makes you want to linger." - The Philadelphia Tribune