American Daughter: A Memoir of Intergenerational Trauma, a Mother's Dark Secrets, and a Daughter's Quest for Redemption (Paperback)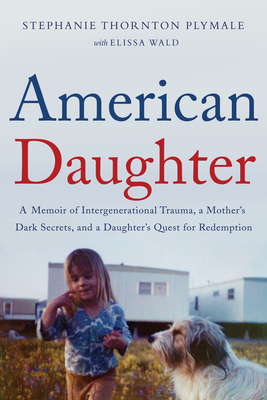 Description
---
"American Daughter-in the tradition of classics like The Glass Castle, LA Diaries and White Oleander-explores in unsparing details the complex interplay between intimate family ties, generational abuse and cataclysmic losses." - Gina Frangello, Author of 'Every Kind of Wanting' and 'A Life in Men' Editor of The Coachella Review
For 50 years, Stephanie Thornton Plymale kept her past a fiercely guarded secret.
No one outside her immediate family would ever have guessed that her childhood was fraught with every imaginable hardship: a mentally ill mother who was in and out of jails and psych wards throughout Stephanie's formative years, neglect, hunger, poverty, homelessness, truancy, foster homes, a harrowing lack of medical care, and ongoing sexual abuse. Stephanie, in turn, knew very little about the past of her mother, from whom she remained estranged during most of her adult life. All this changed with a phone call that set a journey of discovery in motion, leading to a series of shocking revelations that forced Stephanie to revise the meaning of almost every aspect of her very compromised childhood.
​American Daughter
is at once the deeply moving memoir of a troubled mother-daughter relationship and a meditation on trauma, resilience, transcendence, and redemption. Stephanie's story is unique but its messages are universal, offering insight into what it means to survive, to rise above, to heal, and to forgive.
About the Author
---
Stephanie Thornton Plymale is the CEO of Heritage School of Interior Design and the founder of the Heritage Home Foundation, a non-profit serving families transitioning from homelessness. Stephanie calls Portland, Oregon, her home--a word imbued with much meaning, as she grew up without one. From living in a car on the beach with her five siblings to being isolated in the Dependent Unit of the State of California to a horribly abusive foster home, Stephanie never experienced a feeling of family during her childhood. Married at 19 to her high school sweetheart, Stephanie's desire for family roots helped her create a stable, loving marriage and a home for her two biological sons and adopted daughter. It also drove her to uncover the astonishing family secrets revealed in this memoir, American Daughter, which laid bare the soul of her family and resulted in the unlikeliest and most healing of reconciliations.Today, Stephanie balances her family life with promoting Heritage and the success of its students, team, growing community, and ever-widening philanthropic efforts.