Back to the Future: Biff to the Future (Paperback)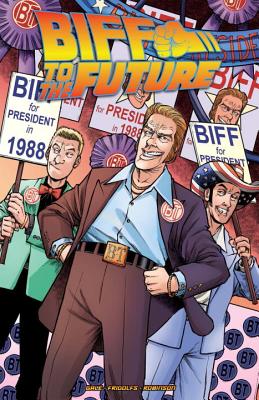 Description
---
DISCOVER AN ALTERNATE BACK TO THE FUTURE REALITY WHERE THINGS HAVE GONE HORRIBLY WRONG!

When Old Biff Tannen travels to the past to give his younger self the Grays Sports Almanac, he opens a lethal Pandora's Box that drastically changes the course of history. In the BTTF movies, Doc and Marty save the day–but what happens in Biff Tannen's dystopia before they do? Find out in this alternate life story of Biff Tannen detailing his diabolical rise to power, his dangerous relationship with the McFly family and Doc Brown, and his ultimate demise.
About the Author
---
Michael Robert "Bob" Gale is an American screenwriter, producer and film director. He famously co-wrote the science fiction film Back to the Future, with writing partner Robert Zemeckis, and the screenplays for the film's two sequels. Gale also co-produced all three films, served as associate producer on the 1991 animated TV series, and co-writes the comics from IDW Publishing.

Gale has also written other comics, including Marvel Comics' Ant-Man's Big Christmas and DC Comics' Batman. In 2001, Gale had a short run on Marvel's Daredevil, writing issues #20-25 of Volume 2. Working with artists Phil Winslade and David Ross, they created the story arc "Playing to the Camera." In 2008 Gale worked as one of the writers among the rotating writer/artist teams on The Amazing Spider-Man, which at the time was published three times a month.