Death Comes in through the Kitchen (A Havana Mystery) (Hardcover)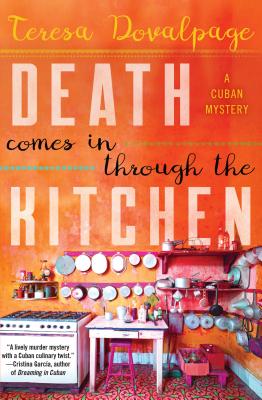 Other Books in Series
This is book number 1 in the A Havana Mystery series.
Description
---
Don't let the authentic Cuban recipes fool you: This is no cozy mystery. Set in Havana during the Black Spring of 2003, a charming but poison-laced culinary mystery reveals the darker side of the modern Revolution.

Matt, a San Diego journalist, arrives in Havana to marry his girlfriend, Yarmila, a 24-year-old Cuban woman whom he first met through her food blog. But Yarmi isn't there to meet him at the airport, and when he hitches a ride to her apartment, he finds her lying dead in the bathtub.

With Yarmi's murder, lovelorn Matt is immediately embroiled in a Cuban adventure he didn't bargain for. The police and secret service have him down as their main suspect, and in an effort to clear his name, he must embark on his own investigation into what really happened. The more Matt learns about his erstwhile fiancée, though, the more he realizes he had no idea who she was at all—but did anyone?
About the Author
---
Teresa Dovalpage was born in Havana, Cuba, in 1966. She earned her BA in English  literature and an MA in Spanish literature at the University of Havana, and her PhD in Latin American literature at the University of New Mexico. She is the author of twelve other works of fiction and three plays, and is the winner of the Rincón de la Victoria Award and a finalist for the Herralde Award. She lives in New Mexico.
Praise For…
---
Praise for Death Comes in through the Kitchen

"Dovalpage's first crime novel is a well-cooked stew of culture and cuisine . . . [A] stunningly unexpected conclusion."
—The Taos News

"[A] dazzling culinary mystery . . . Those expecting a traditional food cozy will be happily surprised."
—Publishers Weekly, Starred Review

"The parade of colorful characters helps Dovalpage paint a vivid portrait of late Castro-era Cuba."
—Kirkus Reviews

"Don't let the title and included Cuban recipes mislead you into thinking this is a cozy—this novel shows the gritty side of Cuba."
—Library Journal

"[Dovalpage] creates a mélange of clashing cultures, multilayered deception, even traditional Cuban recipes, that are both entertainment and a revealing exposé of how a strangled society bypasses laws to survive, and dare to enjoy, daily life."
—Booklist

"I thoroughly enjoyed this romp through Cuba via Matt's naive perceptions, and look forward to the next in this series from Dovalpage—because there's sure to be more about this set of wild and eccentric characters." 
—Kingdom Books

"A fascinating mystery revealing the dark side of the modern Cuban Revolution."
—Stop, You're Killing Me! 

"Dovalpage does a magnificent job at describing the beauty of Havana, a city caught in the past... An intriguing murder mystery that is heavy with political undertones." 
—Fresh Fiction

"A fascinating book . . . Five stars."
—Fangirl Nation

"A lively murder mystery with a Cuban culinary twist. Teresa Dovalpage brings Havana—with its rampant shortages, schemes, and sensuality—to vivid life. Studded with food blogs by a murdered Cuban chef and the efforts of her hapless American fiancé, this is a dark comedy bursting with cultural history and recipes." 
—Cristina García, New York Times bestselling author of Dreaming in Cuban 

"Death Comes in through the Kitchen might be a story about death, but it's also alive with authentic cubanidad, intrigue, humor, delicious recipes, and complex characters. Beautifully written and bursting with surprises!"
—Margarita Engle, author of Mountain Dog and National Young People's Poet Laureate

"The crime and the recipes take a back seat to the rich flavor the author provides of a culture and a country so close to the US and yet so far away."
—Reviewing the Evidence

"From tantalizing recipes to irresistible scenes of seduction, Death Comes in through the Kitchen provides a sumptuous feast for readers, who will fly through the pages to uncover not only the culprit, but also to discover the true identity of the victim. In her debut crime novel, Teresa Dovalpage delivers her signature sass and bawdy wit, while rendering a bittersweet portrayal of Cuba in the last years of Castro's reign."  
—Lorraine M. López, author of Homicide Survivors Picnic and Other Stories and The Darling

"You've never read a mystery like this one! In Dovalpage's Cuba, love, murder, food and politics form a deliciously dark and funny stew." 
—Chantel Acevedo, author of The Distant Marvels and The Living Infinite

"Eye opening, a cultural tour that I enjoyed taking."
—Book Dilettante (blog)

Praise for the work of Teresa Dovalpage

"A rich and perceptive portrayal of daily life in Cuba."
—Ft. Lauderdale Sun-Sentinel

"[A] piquant coming-of-age novel."
—O Magazine

"Amusing, observant . . . Dovalpage's sense of place and devastating depiction of prejudice in 1980s Cuba make this a worthwhile debut."
—The Miami Herald