Foreign Gods, Inc. (Paperback)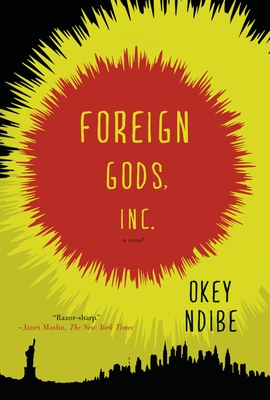 Description
---
From a disciple of the late Chinua Achebe comes a masterful and universally acclaimed novel that is at once a taut, literary thriller and an indictment of greed's power to subsume all things, including the sacred.

Foreign Gods, Inc., tells the story of Ike, a New York-based Nigerian cab driver who sets out to steal the statue of an ancient war deity from his home village and sell it to a New York gallery.

Ike's plan is fueled by desperation. Despite a degree in economics from a major American college, his strong accent has barred him from the corporate world. Forced to eke out a living as a cab driver, he is unable to manage the emotional and material needs of a temperamental African American bride and a widowed mother demanding financial support. When he turns to gambling, his mounting losses compound his woes.

And so he travels back to Nigeria to steal the statue, where he has to deal with old friends, family, and a mounting conflict between those in the village who worship the deity, and those who practice Christianity.

A meditation on the dreams, promises and frustrations of the immigrant life in America; the nature and impact of religious conflicts; an examination of the ways in which modern culture creates or heightens infatuation with the "exotic," including the desire to own strange objects and hanker after ineffable illusions; and an exploration of the shifting nature of memory, Foreign Gods is a brilliant work of fiction that illuminates our globally interconnected world like no other.
About the Author
---
Okey Ndibe first came to the US to take up appointment as the founding editor of African Commentary, a magazine published by Nigerian novelist Chinua Achebe. He has been a visiting professor at Brown University, Connecticut College, Simon's Rock College, Trinity College, and the University of Lagos (as a Fulbright scholar). His award-winning journalism has appeared in The New York Times, The Guardian, and the Hartford Courant, where he served on the editorial board. Ndibe is also the author of Arrows of Rain, and earned his MFA and PhD from the University of Massachusetts at Amherst. He lives in West Hartford, CT, with his wife, Sheri, and their three children.
Praise For…
---
Praise for Foreign Gods, Inc.

A NPR Great Read of 2014
A Philadelphia Inquirer Best Book of 2014
The Root 15 Best Novels by a Black Author of 2014
A Cleveland Plain Dealer Best Books of 2014 Selection

"Razor-sharp . . . Mr. Ndibe invests his story with enough dark comedy to make Ngene an odoriferous presence in his own right, and certainly not the kind of polite exotic rarity that art collectors are used to . . . In Mr. Ndibe's agile hands, he's both a source of satire and an embodiment of pure terror."
—Janet Maslin, The New York Times

"A story of sweeping cultural insight and absurd comedy . . . rendered with a stoic power that moves the reader more than histrionics possibly could."
—The Washington Post

"Unforgettable . . . Ndibe seems to have a boundless ear fo' the lyrical turns of phrase of the working people of rural Nigeria . . . The wooden deity "has character, an audacious personality,' says one non-African who sees it. So does Ndibe's novel, a page-turning allegory about the globalized world." 
—Los Angeles Times

"A hard look at the American dream, which seems to be receding further and further into the distance these days."
—GQ Magazine

"This is precisely the kind of novel that makes one anti-social. If you find it today, sprint home, throw away your cellphone, bolt the front door and don't worry too much if you are not up in time for church tomorrow."
—Daily Nation (Kenya)

"We clearly have a fresh talent at work here. It is quite a while since I sensed creative promise on this level."
—Wole Soyinka, winner of the Nobel Prize in Literature

"An entertaining, witty adventure . . . Foreign Gods, Inc. is an intelligent, satirical novel that comes highly anticipated and does not disappoint."
—The Root

"A morality tale for our time . . . With subtle hints at moral turmoil, a gift for dark humour, and characterisation that is perceptive and neatly observed, Ndibe manages to persuade the reader to root for Ike, even as his haphazard plans begin to unravel."
—The Guardian (UK)

"Brims with warmth, vibrancy and color . . . Just about perfect."
—Paste Magazine

"Ndibe is a writer's writer, and this book is a lesson in the art of the novel."
—New York Journal of Books

"Ndibe writes of cultural clash in a moving way that makes Ike's march toward disaster inexorable and ineffably sad."
—Kirkus Reviews, STARRED Review

"If you've ever sat in the back of a cab silently—or not so silently—wondering where your cab driver is from and what his life is like (and really hasn't everyone?) then you will be captivated by Nigerian writer Okey Ndibe's new novel."
—Metro New York

"Wonderfully colorful . . . There's more than a touch of Poe, or perhaps The Twilight Zone, in the surreal conclusion of this story."
—The Hartford Courant