BOX 88: A Novel (Paperback)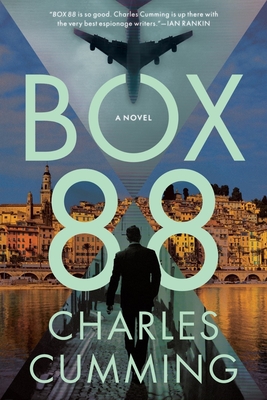 $17.95

Usually Ships in 1-5 Days
Description
---
One of Parade's Most Anticipated Books of 2022!
A secret agent comes of age—and reckons with the legacy of his first mission—in this thriller by New York Times-bestseller Charles Cumming, "the best of the new generation of British spy writers" (The Observer)
Lachlan Kite is a member of BOX 88, an elite transatlantic black ops outfit so covert that not even MI6 and the CIA are certain of its existence — but even the best spy can't anticipate every potential threat in a world where dangerous actors lurk around every corner. At the funeral of his childhood best friend, Lachlan falls into a trap that drops him into the hands of a potentially deadly interrogation, with his pregnant wife, also abducted, being held as collateral for the information he's sworn on his own life to protect.
Thirty years earlier Lachlan, then just out of the upper class boarding school where he was reared, was BOX 88's newest recruit. In the haze of a gap year summer, in which the study of spycraft was intertwined with a journey of self-discovery, he cut his teeth on a special assignment on the coast of France, where a friendship allowed him special access to one of Iran's most dangerous men. Today, Lachlan's nostalgia for the trip is corrupted by recollection of the deceit that accompanied it but, in order to save his family, he'll be forced to revisit those painful memories one last time.
A pulse-pounding narrative that straddles two eras — 1989 and 2020 — BOX 88 is a "wonderfully taut, exciting and up-to-date spy thriller" that introduces a compelling new character and a captivating international storyline (Spectator, Books of the Year).
About the Author
---
Charles Cumming is a British writer of spy fiction. He was educated at Eton College (1985-1989) and the University of Edinburgh (1990-1994), where he graduated with 1st Class Honors in English Literature. He had been described as "the best of the new generation of British spy writers who are taking over where John le Carré and Len Deighton left off."
Praise For…
---
BOX 88 is so good. Charles Cumming is up there with the very best espionage writers.
— Ian Rankin

Well-timed action scenes match focused glimpses into the world of spycraft. This outing cements Cumming's place in the top rank of espionage writers.
— Publishers Weekly STARRED REVIEW

The suspense is palpable, the characters flawed but sympathetic in their own ways and the story gripping. In a month of really excellent reads, BOX 88 is a clear standout.

— BookPage STARRED REVIEW

The plot—anchored in full-bodied portraits of a small cast of characters confronted with the inescapable way the political and the personal are entangled—is intricate but coherent, taking readers down a chilling road of recent history, vividly depicted. The result is a believable plot undergirded by complex characters and profound questions. The gold standard in espionage fiction.
— Kirkus STARRED REVIEW

It's no easy trick to write a compelling thriller when your hero is strapped to a chair for most of the book, but Cumming does just that, threading coming-of-age themes into a complex espionage plot (evoking Olen Steinhauer's Tourist series) that suggests there will be much more to discover within the recesses of Box 88.

— Booklist STARRED REVIEW

Few writers today can create realistic and cutting espionage fiction like Charles Cumming. BOX 88 is a long novel, but it is never dull and will make readers recall the work of John le Carré and Ken Follett. It is nice to see a writer who respects such legends and continues to do his best to keep the fire burning for the genre's future.
— Bookreporter

BOX 88 is at once rivettingly suspenseful and psychologically complex, a rare and rewarding combination. After John Le Carré died, there was much speculation about who, if anyone, could fill the space left by his departure. This series debut indicates that the spy-story genre is in safe and very talented hands.

— Reviewing the Evidence

Box 88 is a masterpiece of plotting and character, Cumming's best novel to date. If you haven't yet had the pleasure of reading him, then do so immediately.
— Dan Fesperman

BOX 88 is a wonderful spy novel; Charles Cumming's most ambitious—and his best—yet.
— Mick Herron

Charles Cumming writes with intelligence, grace, and stunning verisimilitude.
— Gregg Hurwitz

The talented Cumming comes up with a spy for the 21st century in Lachlan Kite.
— Daily Mail, Books of the Year

A wonderfully taut, exciting and up-to-date spy thriller.
— Spectator, Books of the Year

An ambitious fusion of coming-of-age novel and gripping espionage thriller.
— Financial Times, Books of the Year

There are a pair of British writers who are vying for the spy mantle of John le Carré: Mick Herron and Charles Cumming. Cumming just published a new novel, BOX 88, which might vault him into the front of the pack [...] Cumming has written a tense thriller which balances on a knife edge.

— Dayton Daily News