The Ghost Network: A Novel (Paperback)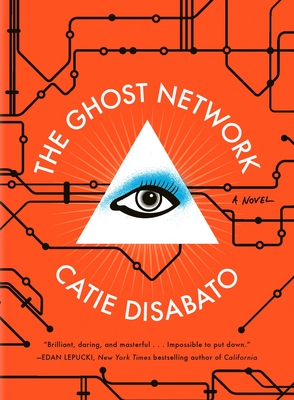 Description
---
Has the world's hottest pop star been kidnapped, joined a secret sect, or simply gone into hiding? The answer lies in the abandoned subway stations of Chicago . . .
 
One minute insanely famous pop singer Molly Metropolis is on her way to a major performance in Chicago, and the next, she's gone.
 
A journalist who's been covering Molly joins the singer's personal assistant in an increasingly desperate search to find her, guided by a journal left behind in her hotel room, and possible clues hidden in her songs—all of which seem to point to an abandoned line in the Chicago subway system.
 
It leads them to a map of half-completed train lines underneath Chicago, which in turn leads them to the secret, subterranean headquarters of an obscure intellectual sect—and the realization that they've gone too far to turn back. And if a superstar can disappear without a trace . . . what can happen to these young women?
 
Suspenseful and wildly original, The Ghost Network is a novel about larger-than-life fantasies—of love, sex, pop music, amateur detective work, and personal reinvention. Debut novelist Catie Disabato bursts on the scene with an ingeniously plotted, witty, haunting mystery.
About the Author
---
CATIE DISABATO is a columnist for Full Stop. She's written criticism and commentary for This Recording, The Millions, and The Rumpus, and her short fiction was recently featured on Joyland. After growing up in Chicago and graduating from Oberlin College, she now lives in L.A. and works in public relations.
Praise For…
---
"A smart and thorny debut novel... Truly contemporary... The Ghost Network presents the maze of modern culture with all its dead ends and truncations, but reveals treasure to those who walk the path."
—New York Times Book Review

"A nerve-jangling mash-up of conspiracy theories and ingeniously plotted existential mystery."
—O, the Oprah Magazine, The Season's Best

"Ambitious, digressive and occasionally overstuffed, The Ghost Network is a rewarding read — in other words, it's a rabbit hole well worth falling down."
—Chicago Tribune

"[An] engaging debut novel."
—San Francisco Chronicle

"A high-energy, pop meta-mystery."
—Boston Globe, Summer Reading Picks

"A debut novel that is as carefully structured as it is ambitiously inventive."
—Los Angeles Magazine, 6 Books You Need to Read This May

"Suspenseful, conspiratorial, digressive... This wildly inventive, remarkably assured debut is entirely Disabato's own."
—Globe and Mail (Canada)

"A bumpy, challenging narrative ride, one that's worth taking until the end of the line."
—KQED, Beach Reads for Rebels

"A perceptive look at celebrity and personal branding in the digital age… The Ghost Network, like a great pop song, is an intricate system and a lavish spectacle at the same time."
—Chicago Reader

"This novel toys with and ultimately subverts all the conventions of its genre, and is as smart and funny as it is compelling."
—Brooklyn Magazine

"Excellent... Throughout the fanciful plot there's something so vividly current about Disabato's characters...that she is revealed to be a keen and trustworthy observer of the habits of the young."
—Slate

"Ambitious and imaginative, The Ghost Network seamlessly blends pop culture and conspiracy theory and philosophy."
—BuzzFeed, 17 Awesome New Books You Need To Read This Summer

"Prepare to be amazed… The Ghost Network is an enthralling participatory experience, at once an erudite mystery and a complex investigation on the dark side of fame and fandom."
—Bustle

"It's exciting to read a novel with so much ambition in its construction, but one that is simultaneously concerned with a topic like the relationship between a female pop star and her fans, elevating 'girl' culture to its rightful status as a matter for thoughtful literary inquiry."
—Flavorwire, Staff Picks

"[Disabato's] writing is contemporary, and the book is not shy about carving out its very specific niche in time, but this book is destined to become a new classic… The Ghost Network has just the right balance of romance, mystery, and social commentary."
—Book Riot, The Best Books of 2015

"Few first novels have ever felt so confident, ambitious, idiosyncratic, and carefully composed... Disabato may be a fresh face in the literary world, but her style and schemes triumph over those of many seasoned scribes... The Ghost Network earns its place alongside some of the best modern mysteries."
—PopMatters

"A layered and twisted trip through the real and fictional, pop and political, that sparks brightly when those worlds intersect... The Ghost Network finds signs of life in unexpected places."
—Lambda Literary

"[An] innovative and troubling debut novel."
—Los Angeles Review of Books

"I could not put it down... Totally fun and different."
—Rachael Berkey, Nerdist, All the Books You Need to Read This Summer

"[Disabato's] writing is contemporary, and the book is not shy about carving out its very specific niche in time, but this book is destined to become a new classic... The Ghost Network has just the right balance of romance, mystery, and social commentary."
—Book Riot, Best Books of 2015

"It works because it really commits to its faux true crime conceit. The Ghost Network is high concept but…unpretentious."
—Oyster Review

"A thinking reader's thriller... It's clever, complex and glitters with fantastic flights of imagination, and Disabato is an exciting young writer to watch."
—Lectito

"A terrific debut novel, one that fires on all cylinders... Pop music, psychogeography, kinky sex stuff - this book has it all and has fun with all of it."
—The Next Best Book Club

"Fascinating."
—Metapsychology Online Reviews

"Ingeniously combines fact and fiction... As gripping as it is clever, it's both a treatise on modern celebrity and a thriller for the thinking man or woman."
—The Independent (UK)

"A paean to the modern urban landscape... Simultaneously breathlessly exhilarating and beautifully haunted."
—Publishers Weekly, starred review

"A thrilling debut novel... Ultimately, the novel, with its intricate structure and agile pacing, adds up to a layered, well-executed story within an inventive story. Artistic ambition, cultural critique, and a revolutionary philosophy drive the mysteries underlying this complex, charismatic novel."
—Kirkus Reviews

"Brilliant, daring, and masterful . . . Impossible to put down."
—Edan Lepucki, New York Times bestselling author of California

"A high-concept mystery that looks to be a lot of fun."
—The Millions, Most Anticipated Books of 2015

"It looks like a thrilling read."
—Masters Review, Fifteen Books We're Looking Forward to This Year

"A giddy mashup of pop culture, genre-tropes, conspiracy theories and dystopian fantasy. Imagine Thomas Pynchon possessed by the spirit of a teenaged girl who is binge-watching TMZ while shrooming out of her mind, and you get some idea of the layered, phantasmagoric effect of this wonderfully trippy book. Catie Disabato is a true original, and a young writer to watch."
—Dan Chaon, author of Await Your Reply

"As close as we'll ever get to Borges filtering Lady Gaga, Calvino analyzing Miley Cyrus, or Cortazaar obsessing over FKA Twigs, the supremely talented Disabato gives us a synthwave pop illuminati fantasy that will make your ears ring." 
—Maxwell Neely-Cohen, author of Echo of the Boom
"Catie Disabato's prose is as clean as a whistle and as sharp as a tack, and her imagination is wondrous. A smart and exciting debut that plays by its own rules."
—Ivy Pochoda, author of Visitation Street 
"Spectacularly original. Meta, ingenious, and totally fun."
—Kate Durbin, author of E! Entertainment