The Intellectual Devotional: Health: Revive Your Mind, Complete Your Education, and Digest a Daily Dose of Wellness Wisdom (The Intellectual Devotional Series) (Hardcover)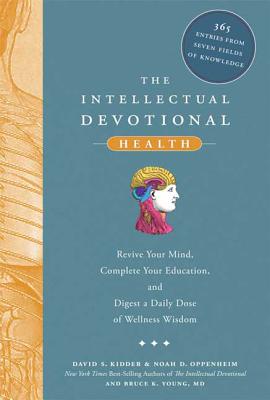 Description
---
In this fourth installment of the New York Times best-selling Intellectual Devotional series, authors Noah Oppenheim and David Kidder have partnered with Bruce K. Young, MD, to offer a year's worth of medical knowledge and wellness wisdom. Each daily dose in this infectious volume offers insight into the mysterious terrain of the human body and the factors that impact its constitution.

Drawn from seven diverse categories, including lifestyle and preventive medicine; the mind; medical milestones; drugs and alternative treatments; sexuality and reproduction; diseases and ailments; and children and adolescents, these 365 entries are as informative as they are functional. From aspirin to the x-ray, headaches to Hippocrates, Viagra to influenza, The Intellectual Devotional: Health will revive the mind and rejuvenate the body. Sure to please devoted intellectuals and newcomers alike, this timely volume sheds new light on an endlessly fascinating subject: ourselves.
About the Author
---
David S. Kidder is an entrepreneur with a wide range of technology and marketing expertise. Kidder and his companies have appeared in numerous publications including the New York Times, the Wall Street Journal, USA Today, and Fast Company. Kidder is a graduate of Rochester Institute of
Technology and was a recipient of ID magazine's International Design Award. He lives in Westchester, New York, with his wife, Johanna, and son.

Noah D. Oppenheim, a senior producer of NBC's Today show, has extensive experience in television and print journalism. He has produced and reported for Scarborough Country and Hardball with Chris Matthews, and his writing has appeared in Esquire, the Wall Street Journal, Men's Health, and the Weekly Standard. He resides in New York City.

Bruce K. Young, MD., is internationally known as a leader and innovator in obstetrics and gynecology. He developed the first obstetrical intensive care unit and founded the Division of Maternal and Fetal Medicine at NYU Medical Center. He is the Silverman Professor of Obstetrics and Gynecology at NYU Medical School and is listed among America's Top Doctors and in New York magazine's Best Doctors 2008.