Strangers Devour the Land (Paperback)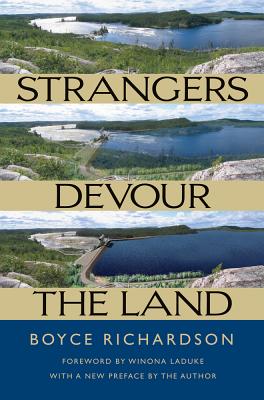 Description
---
First published in 1974, Strangers Devour the Land is recognized as the magnum opus among the numerous books, articles, and films produced by Boyce Richardson over two decades on the subject of indigenous people. Its subject, the long struggle of the Crees of James Bay in northern Quebec--a hunting and trapping people--to defend the territories they have occupied since time immemorial, came to international attention in 1972 when they tried by legal action to stop the immense hydro-electric project the provincial government was proposing to build around them.

The Crees argued that the integrity of their vast wilderness was essential to their way of life, but the authorities dismissed such claims out of hand. Richardson, who sat through many months of the trial, mingles the scientific and Cree testimony given in court with his own interviews of Cree hunters, and experiences in gathering information and shooting films, to produce a classic tale of cultures in collision.

In a new preface, he reveals that the Crees--now receiving immense sums of money as compensation for the loss of their lands--appear to be doing well, and to be in the process of joining modern, technological culture, while retaining the spiritual base of their traditional lives. Meanwhile, Hydro-Quebec continues to eye additional rivers on the Cree's lands for new dams.