The Regional Office is Under Attack!: A Novel (Hardcover)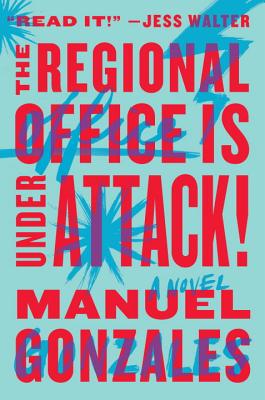 Description
---
Read it!" —Jess Walter, New York Times bestselling author of Beautiful Ruins

"[R]ollicking good fun." —New York Times Book Review

"A tour-de-force." —Laura Miller, Slate

In a world beset by amassing forces of darkness, one organization—the Regional Office—and its coterie of super-powered female assassins protects the globe from annihilation.

At its helm, the mysterious Oyemi and her oracles seek out new recruits and root out evil plots. Then a prophecy suggests that someone from inside might bring about its downfall. And now, the Regional Office is under attack.
 
Recruited by a defector from within, Rose is a young assassin leading the attack, eager to stretch into her powers and prove herself on her first mission. Defending the Regional Office is Sarah—who may or may not have a mechanical arm—fiercely devoted to the organization that took her in as a young woman in the wake of her mother's sudden disappearance. On the day that the Regional Office is attacked, Rose's and Sarah's stories will overlap, their lives will collide, and the world as they know it just might end.
 
Weaving in a brilliantly conceived mythology, fantastical magical powers, teenage crushes, and kinetic fight scenes, The Regional Office Is Under Attack! is a seismically entertaining debut novel about revenge and allegiance and love.
About the Author
---
Manuel Gonzales is the winner of the American Library Assocation's Alex Award, and the author of the acclaimed story collection The Miniature Wife, winner of the American Academy of Arts and Letters Sue Kaufman Prize for First Fiction and the John Gardner Fiction Book Award. A graduate of the Columbia University Creative Writing Program, he teaches writing at the University of Kentucky and the Institute of American Indian Arts. He has published fiction and nonfiction in Open City, Fence, One Story, Esquire, McSweeney's Quarterly Concern, and The Believer. Gonzales lives in Kentucky with his wife and two children.
Praise For…
---
"The Regional Office is Under Attack! is an entertaining and satisfying novel. Like the best of the stories it satirizes so gently, it's rollicking good fun on the surface, action-packed and shiny in all the right places; underneath that surface, though, it's thoughtful and well considered.  Gonzales has created a superheroic fighting force of the kind we've grown so used to through constant exposure to the Avengers and various iterations of the X-Men, and then he has turned out their pockets and flipped open their diaries." —New York Times Book Review

"[H]ighly entertaining… Wonderfully strange and fun, Gonzales' novel follows both the women attacking and defending the Regional Office and how their lives intersect." —Buzzfeed

"A tour-de-force... [R]epurposes the devices of a genre specializing in fantasies of mastery into a portrait of chastened adults moving through a world where mastery eludes us all... [W]hat binds the whole thing together is a persistent, self-contradictory human desire to both be extraordinary and to fit in, finally, somewhere. The Regional Office Is Under Attack! sneaks up on you. It starts out looking like a heist yarn intertwined with a couple of origin stories, but it keeps coming back to the stuff people devour superhero comics and spy thrillers to escape: isolation, confusion, triviality, moral doubt." —Laura Miller, Slate

"A hugely entertaining read." —Chicago Tribune

"Like the writers he is compared to, Gonzales's stories' fantastic premises are always anchored in real-world conflicts that hold universal familiarity. The Regional Office is Under Attack!, …carries some of his stories' thematic arsenal into a book length narrative… The story nods to tons of tropes—from Kill Bill and Charlie's Angels to Blade Runner and The Karate Kid—but it frequently subverts those tropes and uses them to flesh out characters that dazzle." —The Rumpus

"The Regional Office really IS under attack! This is not metaphor! It is a wry and propulsive work of inventive fiction by a terrific young writer! Read it!"
—Jess Walter, New York Times bestselling author of Beautiful Ruins

"Delightfully weird, weirdly delightful! Manuel Gonzales clearly has a labyrinth of a brain--all stuffed with monsters, trapdoors, and complicated heroes. Sign me up as a member of the fan club, please."
—Kelly Link, author of Get in Trouble and Magic for Beginners

"This book is a winged creation, and absolutely marvelous. Gonzales keeps turning the kaleidoscope to reveal the strangest, darkest, and most beautiful dimensions of human love, and the conversion of mechanical fury into living strength."
—Karen Russell, author of Swamplandia!

"The Regional Office, a shadowy organization of spooky oracles and superpowered middle management misfits, isn't the only thing under attack in this tremendous debut novel. With exuberant prose and a corkscrew plot, Manuel Gonzales vanquishes artistic orthodoxies, tiresome genre boundaries and every humdrum narrative convention in sight, leaving in his wake a riveting story of secrets, betrayals, and vengeance!"
—Claire Vaye Watkins, author of Battleborn and Gold Fame Citrus
 
"Wild, visionary, ablaze with heart and riot, The Regional Office Is Under Attack! is unforgettable—an epic love story that confronts our future with a howl and fireworks."
—Paul Yoon, author of Snow Hunters
 
"The Regional Office is Under Attack! is wickedly subversive, suspenseful, and thoughtful, all at once—but most of all, it's just fun to read, from the first  sentence to the last. Put down your expectations and pick up this book. It'll hit you like a lightning bolt." 
—Jess Row, author of Your Face in Mine

"A ridiculously fun story about love, as well as time and timing, both good and bad. And because of that, it's also timely. The ending—with its deft glimpse at a hypothetical future—is alone worth the wild ride."
—Hannah Pittard, author of The Fates Will Find Their Way

"[W]hen it comes to fiction it usually doesn't bring out the LOLs so much as me laughing on the inside. Which is why I was pleasantly surprised to find myself cracking up during some of the fight scenes and especially a bunch of the lines with curses while listening to the audiobook of The Regional Office is Under Attack!" —BookRiot
 
"Gonzales's book engages with the clichés laid down by the 70s political thriller, but it does so creatively. It gathers up conventions of all genres – hot killer assassin teens, hostage-scenario nailbiter, supernatural mystery – without sinking into any of them, or letting them get stale… The emotional currents flowing beneath and through Gonzales's blockbuster action scenes are remarkably well rendered. I inhaled this book so quickly that I missed plot points on first read: best to let it wash over you and then marvel in retrospect at the clues you flew past." —The Guardian

"Firmly establishes Gonzales as a practitioner of literary sci-fi… it's just so much fun to read. Gonzales, a former Austinite now living in Kentucky, is a gifted writer who effortlessly pushes and pulls the reader through shifting timelines, and his smooth writing style sparkles with wit. . . . a superb piece of high-tension storytelling." —Dallas Morning News

 "Cinematic, like a well-done graphic novel set in a tornado of timeframes — an inventive labyrinth with oracles, superpowered female assassins and mythology. . . . 'The Regional Office Is Under Attack!' pushes beyond the average reading experience and requires a different type of attention — not more or less attention, just different, as Gonzales' story furiously bursts among the past, present and future. . . a surrealist Tarantino-esque adventure, more readily compared to 'Pulp Fiction' in its plot and a Yves Tanguy painting in its mood, atmosphere and style. The novel deals in science fiction, mythology, hyper-action, love and mystery. It's a smorgasbord, but Gonzales weaves all the pieces together artfully. At no time does he take himself too seriously, but there is more than a tinge of philosophical surrealism and existentialism." —Austin American Statesman

"In a novel that is simultaneously irreverent, gut-wrenching, satirical and sorrowful, Gonzales demonstrates a fresh and varied voice, along with perfect comedic timing." —Kansas City Star

"So fresh and so funny, the pacing is so fast and crackling, you won't be able to stop reading." —Tor

"Sci-fi freaks and magical-realist devotees will flock to this debut novel by Gonzales…Part Kill Bill, part The Departed, this tale centers around the Regional Office, an underground entity filled with female assassins (who better?) trained to keep the world safe from evil forces." —Refinery29

"[A] wholly invented world rife with satire, absurdity, and somehow love and even warmth. With this debut novel, Gonzales... proves himself to be both a wonderful addition to a proud literary tradition (that of Vonnegut, Borges, Saunders, Bender, and Barthelme, et al) and a true original." —Lit Hub

"I wanted to go for a ride and The Regional Office is Under Attack! took me on one… I was rewarded with pure satisfaction." —BookRiot, The Best Books of 2016 So Far

"This book is a romp if ever there was one. . .  This book is just as exciting as the explanation point in its title makes it sound. It's the kind of read every reader hungers for." —Bustle

"You may not be familiar with the name Manuel Gonzales, but once you've had the pleasure of delving into one of his out-of-the-ordinary literary creations, you won't forget it… In his debut novel, The Regional Office Is Under Attack!, Gonzales conjures a futuristic world of super-powered female assassins… Backstory on each character and the Regional Office itself is delicately spliced between action-packed scenes, making this a wonderfully choreographed narrative. The moment you think you have a grasp on the truth about the Regional Office, Gonzales tosses in a twist that will have you questioning your understanding all over again… The amount of detail Gonzales infuses into this world makes it come alive in an engaging, quirky and delightful way, creating a perfect backdrop to a page-turning plot. Gonzales' tale has something for every reader: Double agents! Secret romantic trysts! Conspiracy! Fight scenes! Friendships gone awry! At its core, however, The Regional Office Is Under Attack! is ultimately a tale of vengeance—one during which you'll find yourself struggling to choose a side." —Bookpage

"[I]f you want a thoroughly fun read that's also incredibly well-written and smart, then I highly advise picking this one up." —Nerds of a Feather

"[B]ewitching, infectious, and high-flying book…This novel is a ball of energy." —Everyday eBook
 
"You might want to get a firm grip on your socks before cracking open this one; otherwise, Gonzales is likely to knock them off. It's very difficult to categorize this mind-bending novel... it's pure excitement.... A brilliant genre-blender." —Booklist (STARRED review)

"The narrative not only bounces between perspectives in short, propelling chapters, but also pinballs in time . . . Gonzales writes with an abundance of imagination, riffing on comic book and pop culture plot lines and characters while adding his own unique perspective…there are moments of brilliance." — Publishers Weekly
 
"A hyperkinetic sci-fi set piece along the lines of Die Hard seeded with paranormal elements cribbed from half a dozen other franchises and the absent-parent grudges that fuel any number of teen novels. … Genre enthusiasts will love the spooky cyberpunk spirit at play here, and resolute readers will be rewarded with an unexpected ending that ratchets up the action long after the Regional Office has been abandoned. A surprisingly erudite bit of sci-fi that throws in everything but the kitchen sink." — Kirkus