Season of Migration to the North (Paperback)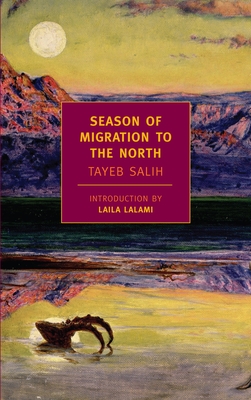 Description
---
After years of study in Europe, the young narrator of Season of Migration to the North returns to his village along the Nile in the Sudan. It is the 1960s, and he is eager to make a contribution to the new postcolonial life of his country. Back home, he discovers a stranger among the familiar faces of childhood—the enigmatic Mustafa Sa'eed. Mustafa takes the young man into his confidence, telling him the story of his own years in London, of his brilliant career as an economist, and of the series of fraught and deadly relationships with European women that led to a terrible public reckoning and his return to his native land.

But what is the meaning of Mustafa's shocking confession? Mustafa disappears without explanation, leaving the young man—whom he has asked to look after his wife—in an unsettled and violent no-man's-land between Europe and Africa, tradition and innovation, holiness and defilement, and man and woman, from which no one will escape unaltered or unharmed.

Season of Migration to the North is a rich and sensual work of deep honesty and incandescent lyricism. In 2001 it was selected by a panel of Arab writers and critics as the most important Arab novel of the twentieth century.
About the Author
---
Tayeb Salih (1929-2009) was born in northern Sudan in 1929 and educated at the University of Khartoum. After a brief period working as a teacher, he moved to London to work with the BBC Arabic Service. Salih later worked as director general of information in Qatar in the Arabian Gulf, and then with unesco in Paris and the Arab Gulf States. Along with Season of Migration to the North, his books in English include The Wedding of Zein (which will be published as an
NYRB Classic) and Bandarshah.
Laila Lalami was born and raised in Morocco. Her work has appeared in The Boston Globe, The Los Angeles Times, The Nation, The New York Times, The Washington Post and elsewhere. Her debut collection of short stories, Hope and Other Dangerous Pursuits, was published in the fall of 2005, and her first novel, Secret Son, was published in the spring of 2009. She is currently Assistant Professor of Creative Writing at the University of California Riverside.
Denys Johnson-Davies(1922-2017)published more than twenty-five volumes of stories, novels, plays, and poetry translated from modern Arabic literature.
Praise For…
---
"This depthless, elusive classic …explores not just the corrosive psychological colonisation observed by Frantz Fanon, but a more complex two-way orientalism, in which the charms of western thought, embodied in its poetry and liberal ideals, prove irresistible, even as the novel's Sudanese narrators understand these as the tempting fruit of a poisoned tree." —Greg Jackson, The Guardian 

"Season of Migration to the North is an engaging and complicated novel, by turns combative and wistful, about two men who leave Sudan to study in England and afterward belong in neither place." --Maude Newton, NPR.com
"Season of Migration to the North is remarkably compact, really a novella rather than a novel. But woven into the brief text is a dense tracery of allusions to Arabic and European fiction, Islamic history, Shakespeare, Freud, and classical Arabic poetry—a corpus that haunts all his writing. Salih, who died this past February in London, packed an entire library into this slim masterpiece. It is literature to the second degree. And yet it is anything but labored. Rather, it is alive with drama and incident: crimes of passion, sadomasochism, suicide. It is a novel of ideas wrapped in the veils of romance." --Harper's Magazine
"This is the one novel that everyone insisted I took with me. Set in a Sudanese village by the Nile, it is a brilliant exploration of African encounters with the West, and the corrupting power of colonialism. The narrator is a man returned to his native village, after university in England, and he gradually unpicks the horrifying story of a newcomer he finds in his old home. This man had been a brilliant Sudanese student and had also gone to England with terrible consequences. I never got this book out to read without someone coming up to tell me how brilliant it was." --Mary Beard
"Season of Migration to the North, by Tayeb Salih, is an eloquent and restrained portrait of one man's exile. It is a rare narrative in that it charts a life divided between England and Sudan. Without a doubt it is one of the finest Arabic novels of the 20th century, and Denys Johnson-Davies' translation…does the original justice." –Hisham Matar
"Emerging from a constantly evolving narrative, in a trance-like telling, is the clash between an assumed worldly sophistication and enduring, dark, elemental forces. An arresting work by a major Arab novelist who mines the rich lode of African experience with the Western world. An arresting work by a major Arab novelist who mines the rich lode of African experience with the Western world." –Publishers Weekly
"A beautifully constructed novel by an author whose reputation in Arabic is deservedly vast." –London Tribune
"It is certainly time that [Salih] be better known in America." –The Christian Science Monitor
"An Arabian Nights in reverse, enclosing a pithy moral about international misconceptions and delusions...Powerfully and poetically written and splendidly translated by Denys Johnson-Davies." –The Observer (London)
"Season of Migration to the North by Tayeb Salih, a Sudanese novelist, and one of the most important Arabic-language novelists. It's the story of a man who has studied abroad and returned to life in Sudan–about the sort of cultural conflict and internal conflict from colonization. It's a very short novel and a number of people had recommended it to me based on what I had written. The subject matter is interesting: the story of this crisis of someone returning from life in the West." –The Christian Science Monitor
"This book was given to me some time ago by a librarian who had to replace her fiction shelves with an information centre. I was completely captivated by the story...the writing is extraordinarily hypnotic. First published in Arabic in 1966, and in English in 1969 by Heinemann's African Writers Series, it was much acclaimed but did not gain as wide a readership in English as it deserved." –The Guardian
"Inevitably, Aboulela has been compared to Tayeb Salih, whose brutal novel Season of Migration to the North is considered a classic among postcolonial texts and covers the same geographical distance as Minaret (Salih's fiction has been widely translated from Arabic; Aboulela writes in English.)" –The Daily Star (Beirut)
"The prose, translated from Arabic, has a grave beauty. It's the story of a man who returns to his native Sudan after being educated in England, then encounters the first Sudanese to get an English education. The near-formal elegance in the writing contrasts with the sly anti-colonial world view of the book, and this makes it even more interesting." –Chimamanda Ngozi Adichie, author of Purple Hibiscus
"In this extraordinary 1966 novel, a young man returns to his Sudanese village after studying abroad...Salih's own distinguished career with Unesco only sharpens this nightmare of a cultural singularity that twists into a lie. His sweet foreword remarks that he never made much money from fiction, so this reissue is doubly welcome." –The Guardian
"The Sudanese classic novel Season of Migration to the North, Tayeb Salih's inversion of Conrad's journey into Africa." –The Guardian
"Though Salih's work is deeply rooted in local culture, Johnson-Davies says it has a universal appeal: 'He writes in the main about simple peasant people living in a village on the Nile, but they are individuals with very much the same preoccupations as anyone else. I recollect a scene where several of the characters boast about the merits of the donkeys they are riding, as though one was driving a Porsche, another a Maserati, and so on!'" –The New Yorker
"The meeting of the East and the West as a narrative of romance is not new territory: E.M. Forster, and lesser lights like M.M. Kaye and Paul Scott, have also presented the colonial encounter as a romance, at times failed, at other times forced. More important, writers from the other side of the colonial divide have come to prominence in recent decades through their own, perhaps more contested, portrayals. Tayeb Salih's Season of Migration to the North was an early classic of this genre." –The Nation
"Tayib Salih's Season of Migration to the North is a clever inversion of Joseph Conrad's Heart of Darkness: for in this case an Arab worker leaves his people and goes to Europe in search of employment, finding in the process that he has indeed entered his own heart of darkness." –The Irish Times
"This story might seem like a village tragedy from the Sudan, the homeland of the writer Tayeb Salih, but its resonances carry far beyond the setting. Season of Migration to the North is a brilliant miniature of the plight of Arabs and Africans who find themselves no longer sustained by their past and not yet incorporated into a viable future. Swift and astonishing in its prose, this novel is more instructive than any number of academic books." –The New York Times
"A modern Arabic classic." –Reuters
"Denys Johnson-Davies...the leading Arabic-English translator of our time." –Edward Said, The Independent
"Davies has done more than anybody to translate modern Arabic fiction into English and promote it." –Nagib Mahfouz