No One Has to Die Alone: Preparing for a Meaningful Death (Paperback)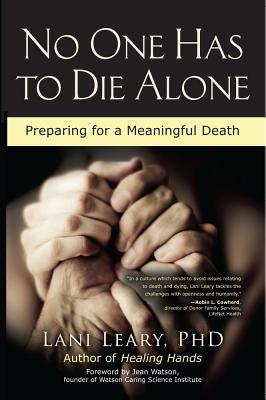 Description
---
No One Has to Die Alone offers meaningful insights and practical tools to rise above fear and make a difference in how we face the transition of death, dying, and bereavement. Caring for a terminally ill loved one can be the single biggest challenge of your life. Drawing from her experience sitting with over 500 people as they died and caring for her own terminally ill father, Dr. Lani Leary gently guides caregivers, family, and friends through the difficult transitions of illness, death, and bereavement. No One Has to Die Alone offers the practical skills, vocabulary, and insights needed to truly address the needs of a dying loved one while caring for yourself through the process. Dr. Leary shows both patient and caregiver how to rise above feelings of fear and isolation to find peace and meaning in each person's unique end-of-life experience. Whether used as a reference book to address a particular challenge or read from start to finish, this is a must-read for anyone facing death or the loss of a loved one. You'll learn: - how to listen to and support a loved one's needs; - what to expect as a loved one declines and the different grieving processes and tasks; - the key to supporting a grieving child; - what resources are available for patients and caregivers; - the lessons of near-death experiences and the value of after-death communications.
About the Author
---
Lani Leary has more than twenty-five years of experience as a psychotherapist working with chronically ill, dying, and bereaved clients. She served as the director of mental health services at Whitman Walker AIDS clinic, as a professor of death studies at George Mason University, and as a researcher at the National Cancer Institute of NIH. She is the author of Healing Hands, an international bestselling audiotape on therapeutic touch and pain management.
Praise For…
---
Publisher's Weekly Review:
Leary, a psychotherapist and professor of death studies, has written an extraordinarily clear-eyed and helpful guide for those who must care for a dying loved one, an almost unavoidable and challenging situation. Leary brings both the personal experience of her parents' deaths—two very different situations at different times in her life—as well as two and a half decades' professional experience working with the dying and the bereaved. Caregivers almost always begin the journey of caregiving not knowing what to do or say; Leary offers both information and comfort for them. Half the book deals with caregiving for the dying, and the second part concerns itself with the bereavement process; several appendixes list varieties of resources. Leary respects both the patterns within and the uniqueness of the processes of letting go and grieving. She provides a public service; this book is strongly recommended for libraries. (Apr.)



"Anyone who is forced to deal with a dying loved one or who is mourning one who has died will profit greatly from reading this seminal manual of Dr. Lani Leary's. No One Has to Die Alone is not only full of the most helpful practical advice and counsel, but is informed by the author's luminous spiritual perspective, which makes this a book of wisdom for the living as well.  
—Kenneth Ring, PhD, author of Lessons from the Light, professor Emeritus of Psychology, University of Connecticut



"This book is a book of grace, beauty, blessings, and guidance for anyone wishing to expand their consciousness and their practical, as well as sacred, relationship with death, dying, and human suffering."
—Jean Watson, PhD, RN, AHN-BC, FAAN, University of Colorado College of Nursing, founder of Watson Caring Science Institute a non-profit foundation



"In a culture which tends to avoid issues relating to death and dying, Lani Leary tackles the challenges with openness and humanity."
—Robin L. Cowherd, director of Donor Family Services, LifeNet Health


Retailing Insight Review:
Dr. Lani Leary couples her personal experience of her father's terminal illness with her academic background in the field of mental health and 25 years as a working psychotherapist to bring readers No One Has to Die Alone. Her book is partly her personal story, which everyone can relate to, as a daughter losing her father. That experience is balanced out with her academic knowledge of death and dying, and how everyone involved can grow and benefit from a "meaningful death" of a dying loved one. This book may even inspire readers to seek professional counseling for the support they and their dying loved one deserve.
Dr. Leary gently describes the importance of the relationship between the caregiver and the dying patient and lists "How to Show Up for the Patient," very practical do's and don'ts. Skillfully outlining the steps needed to care for a dying loved one, she presents additional resources, what to expect, and how to respect and honor the process of dying, a spiritual art that is slowly gaining traction again in this culture.
Her valuable book is especially helpful for bereavement counseling and she divides masculine and feminine grieving and also separates children's grief from adults' grief. Dr. Leary's book, which includes an appendix of resources for the family and friends of a dying loved one, proves to be a compassionate and loving spiritual guide all readers will benefit from.
—Allyson Gracie, Wellness Specialist


"No One Has to Die Alone provides essential information to caregivers of the terminally ill. By including the topic of after-death communication (ADC) experiences, this book also offers comfort, hope, and healing for those who are grieving after their loved ones make their transition."
—Bill Guggenheim, coauthor of Hello From Heaven!