The Home That Was Our Country: A Memoir of Syria (Paperback)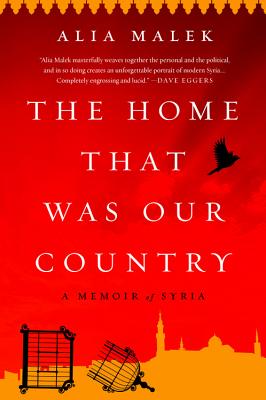 List Price: $17.99
Our Price: $16.99
(Save: $1.00 6%)
Description
---
At the Arab Spring's hopeful start, Alia Malek returned to Damascus to reclaim her grandmother's apartment, which had been lost to her family since Hafez al-Assad came to power in 1970. Its loss was central to her parent's decision to make their lives in America. In chronicling the people who lived in the Tahaan building, past and present, Alia portrays the Syrians-the Muslims, Christians, Jews, Armenians, and Kurds-who worked, loved, and suffered in close quarters, mirroring the political shifts in their country. Restoring her family's home as the country comes apart, she learns how to speak the coded language of oppression that exists in a dictatorship, while privately confronting her own fears about Syria's future.

The Home That Was Our Country is a deeply researched, personal journey that shines a delicate but piercing light on Syrian history, society, and politics. Teeming with insights, the narrative weaves acute political analysis with a century of intimate family history, ultimately delivering an unforgettable portrait of the Syria that is being erased.
About the Author
---
Alia Malek is an award-winning journalist and civil rights lawyer. She is the author of A Country Called Amreeka and editor of Patriot Acts and EUROPA. Her reporting has appeared in the New York Times, Foreign Policy, Nation, and Christian Science Monitor, among others.
Praise For…
---
"In The Home That Was Our Country, Alia Malek masterfully weaves together the personal and the political, and in so doing creates an unforgettable portrait of modern Syria in all its complexities and tragedies. Malek renders multiple generations of family, friends and neighbors vividly but unsentimentally, and what emerges is a portrait of a great people held back by tyranny. As Syria suffers through its darkest days, she reminds us of the humans behind the statistics. Completely engrossing and lucid, the book explains Syria's devolution better than anything I've read."—Dave Eggers

"What Alia Malek has done in The Home That Was Our Country is nothing short of extraordinary. With deep love and clear-eyed honesty, she weaves together the story of a family and the history of a country. Malek addresses the personal and the political like no other writer I have read recently. This book is an urgent and necessary read."—Laila Lalami, author of THE MOOR'S ACCOUNT

"Alia Malek's beautiful, arresting portrait of a Syrian family over generations takes you straight to the heart of that country's agony. Malek brings you inside the intimate world of a Damascus apartment building, while weaving in her own experiences as a journalist-laying bare the struggle for freedom like no other work I know. The Syrian war is perhaps the most profound moral and political crisis of our era, and this unforgettable book will forever change the way you see it and the Middle East."—Anand Gopal, author of NO GOOD MEN AMONG THE LIVING

"Alia Malek has written a beautiful, nuanced account of Syria recalling its complex political and social history, its many peoples, and her own family in this vividly detailed memoir. For a deeper understanding of the past and of the present Middle East, read this book. It offers not easy answers, but the "rougher edges of truth" that allow for a more profoundly humanistic portrait of the region and the causes of the current unrest. I missed home as I read: the hospitality and customs and cuisine; the diverse inhabitants that make up the rich tapestry of the old cities and villages; the women, of all socioeconomic backgrounds, who form the backbone of family life-the way it once was."—Micheline Aharonian Marcom, author of THREE APPLES FELL FROM HEAVEN

"Alia Malek takes us on a journey through time as she travels from her birthplace of Baltimore to the country from which her family hails, Syria. There she rediscovers her own family history through the renovation of her grandmother's home. She finds the meaning of what it is to be Syrian through the diverse characters that lived in her grandmother's building in Damascus. But as Malek restores her grandmother's home she watches her country fall apart with the Syrian conflict unfolding in the background. She tells the story of violence engulfing Syria as a brutal war shatters the mosaic of ethnicities and faiths that make up the Syria she'd always known. A beautiful, nuanced and human memoir that weaves the tale of Syria's history through Malek's own family and leaves the reader with the vivid sense of loss, alienation and fear likely common to all Syrians trapped in this conflict."—Leila Fadel, Middle East Correspondent, NPR

"Moving and insightful, Malek's memoir combines sharp-eyed observations of Syrian politics, only occasionally overdone, with elegiac commentary on home, exile, and a bygone era. Provocative, richly detailed reading."—Kirkus Reviews

"Malek's multigenerational memoir is a brilliant combination of geopolitics and family history...Malek courageously tells the stories of unforgettable family members and friends, including underground humanitarian aid workers who continue despite the risk of torture and execution."—Publishers Weekly

"Malek's writing vividly captures the personalities of her family members and friends as well as her own impressions of Syria, allowing readers insight into the personal stakes of the ongoing war."—Laura Chanoux, Booklist

"The Home That Was Our Country, is one of the finest examples of this new testimonial writing... Malek's memoir will remain essential reading in the emerging body of literary reportage from Syria in English... Such stories couldn't be more urgent."—New York Times Book Review

"Alia Malek has penned a powerful and necessary read that sheds light on and helps our own understanding of the people behind the crisis in Syria."—The Toronto Star

"Malek captures the multifaceted nature of this cataclysm very effectively in her gripping new book...her vivid picture-painting and scathing intelligence turn and turn on that same unspoken question, 'What has happened to our country?'"—Christian Science Monitor

"Alia Malek's new memoir, The Home That Was Our Country, feels like such a necessary, conscious corrective...[a] remarkable book."—Bookforum

"...compelling...Alia Malek's The Home That Was Our Country mirrors the tragedy of Syria..."—The National