Notes from No Man's Land: American Essays (Paperback)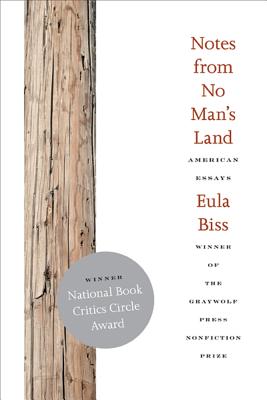 Staff Reviews
---
If you identify as an activist and are interested in racial justice, complicitness, and examining the effects of whiteness on a personal and systemic level, this book will gut you and leave you feeling uncomfortable, hopeful, and ready for change.  This book is harrowing and Biss' writing will change how you see your place in the world.  5 stars.
— Jess
Description
---
Winner of the National Book Critics Circle Award for Criticism
Winner of the Graywolf Press Nonfiction Prize
A frank and fascinating exploration of race and racial identity
Notes from No Man's Land: American Essays begins with a series of lynchings and ends with a series of apologies. Eula Biss explores race in America and her response to the topic is informed by the experiences chronicled in these essays -- teaching in a Harlem school on the morning of 9/11, reporting for an African American newspaper in San Diego, watching the aftermath of Katrina from a college town in Iowa, and settling in Chicago's most diverse neighborhood.
As Biss moves across the country from New York to California to the Midwest, her essays move across time from biblical Babylon to the freedman's schools of Reconstruction to a Jim Crow mining town to post-war white flight. She brings an eclectic education to the page, drawing variously on the Eagles, Laura Ingalls Wilder, James Baldwin, Alexander Graham Bell, Joan Didion, religious pamphlets, and reality television shows.
These spare, sometimes lyric essays explore the legacy of race in America, artfully revealing in intimate detail how families, schools, and neighborhoods participate in preserving racial privilege. Faced with a disturbing past and an unsettling present, Biss still remains hopeful about the possibilities of American diversity, "not the sun-shininess of it, or the quota-making politics of it, but the real complexity of it."
About the Author
---
EULA BISS is the author of The Balloonists. She teaches nonfiction writing at Northwestern University and is co-editor of Essay Press. Her essays have appeared in Harper's and The Believer. She lives in Chicago.
Praise For…
---
"Two of the qualities that make Eula Biss's essays in Notes from No Man's Land compelling and beautiful are precision and independence—independence from orthodoxies of the right and left and the conventions of literary essays and their displays of sensibility and sensitivity. And whatever topic she takes up she dissects and analyzes with startling insight that comes from deep reading and original thinking. She's important to this moment, important to opening up what essays can be, important for setting a standard of integrity and insight, and she's also a joy to read."—Rebecca Solnit
"Biss is telling us the story of our country--one we never saw coming."—The Chicago Tribune
"Eula Biss' Notes From No Man's Land is the most accomplished book of essays anyone has written or published so far in the 21st century. . . . Notes From No Man's Land is the kind of book that rewards and even demands multiple readings. It provokes, troubles, charms, challenges, and occasionally hectors the reader, and it raises more questions than it answers. It is strident and brave in its unwillingness to offer comfort, and, unlike all but a handful of the best books I have ever read, it is unimpeachably great."—Salon
"[Notes From No Man's Land] is a beautiful exercise in consciousness; in bringing both intelligence and experience to bear on a subject that has implications for the way one behaves in the world."—Los Angeles Times
"Biss' pairings of ideas, like those of most original thinkers, have the knack of seeming brilliant and obvious at the same time . . . forceful, beautiuful essays."—NPR
"Biss's examination of America's complicated racial heritage offers penetrating insight."—Time Out New York
"Powerful essays on the nature of identity, national and racial and personal. . . . Containing the music and force of [Biss's] singular thought."—Orion Magazine

"[A] wondrous book. Biss muses on the conquest and subjugation that underpins the American dream, offers anecdotes from her own life, and commentary both general and specific, sometimes intimate. She begins in one place and confidently leads somewhere unexpected. She picks and worries at the idea of race in America — incarceration, education, social welfare. . . . Lyrical she may be, but she is also exhilaratingly bold."—The Spectator (UK)