Love Welcome Serve: Recipes that Gather and Give (Hardcover)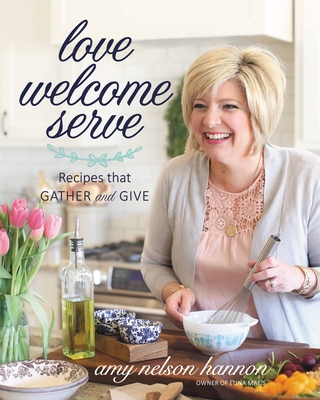 List Price: $28.00
Our Price: $25.00
(Save: $3.00 11%)
Description
---

LOVE WELCOME SERVE is a cookbook of Southern comfort food from Amy Nelson Hannon, the owner of Euna Mae's, a destination kitchen boutique in Northwest Arkansas.

Having been a preacher's wife in the South for more than twenty years, Amy Hannon's heart for hospitality was established, confirming her long-held belief that people who are cooked for feel cared for. Modeled after her grandmother, Euna Mae, Amy's big-hearted lifestyle has become noticed by a disconnected world that is drawn to her mission of using food to love, welcome, and serve those around her. Amy encourages people to open their homes and their hearts, connecting with folks over food; and she offers home cooks simple, crowd-pleasing, comfort recipes, meals that can be prepared for whatever the hospitality affair. Recipes like Brown Sugar Chili over Cheese Grits, Cream Cheese Chicken Enchiladas, and Sam's Pulled Pork are perfect belly-fillers for gathering people in your home. And recipes like Comfort Chicken Pot Pie, Hello Dolly Brownies, and Layered Spaghetti Pie are ideal for giving to folks when they just need to feel loved. Combined with her refreshing enthusiasm and approachable recipes, Amy Hannon has ignited a passion in young cooks who are spreading their hospitality wings, and she has reignited that same passion in seasoned cooks who had forgotten how much joy comes from serving others. Love Welcome Serve, Amy's first cookbook, will encourage you to embrace hospitality so you can enjoy the life that happens when you make and serve food for your people.
About the Author
---
A reputation of hospitality and service paved the way for Amy Nelson Hannon to burst onto the scene in the fall of 2013. Amy gathered goods and treasures to create Euna Mae's Heirloom Kitchen Boutique booth at a regional holiday shopping event. People responded overwhelmingly not only to her products but also to her warmth. She sold out of every item in less than two days and had a list of people who wanted to be contacted for more. Not only did Amy find a market for her carefully curated products, but she discovered there was a growing demand for them. From her store to her online presence, that message has ignited a passion in young cooks who are just learning how to be hospitable and has reignited the same passion in seasoned cooks who had forgotten how much joy comes from serving others. In a marketplace that swings from fancy and foraged to homegrown, Amy has settled on a perfect blend of family, friends and food. Her message that welcoming others into your home can be reasonable and lovely offers a refreshing voice in a conversation filled with complicated recipes, expensive ingredients and quite frankly a whole lot of work. For Amy it always goes back to the heart-a heart to love, welcome and serve.