Storm Clouds Rolling In (# 1 in the Bregdan Chronicles Historical Fiction Romanc (Paperback)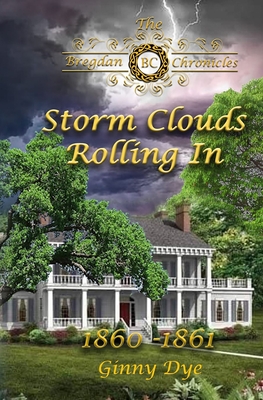 $19.99
Usually Ships in 1-5 Days
Description
---
#1 in The Bregdan Chronicles by Best-Selling Author, Ginny Dye.
Review: Best Historical Fiction series I have ever read Keep them coming Dotti
Review: I expected to like this book. I did not expect to be hooked This series is, quite simply, the best historical fiction I have ever read. I've read all 14 books so far and can hardly wait for the rest. I'm in love with the characters, I can't sleep because I'm too busy reading, I have learned more than I ever thought possible, and I've been inspired to become a better person. My advice to you? READ THEM Jeri

Book Description: Carrie Cromwell comes of age as the dark clouds of the Civil War swallow the country. Born with a fiery spirit and a strong mind, she finds herself struggling between the common wisdom of the South and the devastating truth she has discovered.
The activities of the Underground Railroad and her close friendships with the Cromwell Plantation slaves create agonizing choices. But when her decisions put her at odds with her heritage, and challenge her dreams, will she be able to give up all that is precious to her? What price will she be willing to pay as America crumbles into war?
________________________
This first book of The Bregdan Chronicles historical fiction series will pull you in and never let you go. You'll experience the Civil War era (and all the years to come) through the eyes of both White and Black, free & slave, Southern & Northern - and you'll fall in love with every character. How many books will there be? Ginny has no idea - she intends to write these character's stories for as long as she can
Review: I never thought I would find a series to enthrall me like The Bregdan Chronicles has. I was wrong I am struggling to find appropriate words to describe the awe I am in, and I find myself failing miserably. I absolutely could not put these books down. I would finish one, and immediately hop online to go get the next one....sometimes in the wee hours of the morning, when my tail should have been asleep. The writing style of this author brings you right into the story as if you are a part of it. She has amazing talent to capture the imagination, and bring you right into a virtual reality. I have fallen in love with every one of these characters - especially the strong women - and have become completely entranced with each life represented.
The historical account of this time period was so right on, so very vivid, you almost feel like you've walked right into it. These books became so alive, I actually had dreams at night of battle. (I'm not even kidding.) But it goes further. There were conversations in these books that had me reading over them several times. Life lessons. Sage advice. The kind of wisdom that comes from every day life. Moments that were so profound, they pierced my heart with an accuracy that I can't even begin to explain. Many times, the lives and hearts of each character were changed and rocked with revelation that came about in a moment, yet, so deeply touching the deepest recesses of the heart, that you can't go beyond it, without it having changed you as well, as you read it.
Thank you Ginny Dye...not only for an amazing journey....but for those light bulb moments, throughout each book, that reached beyond the pages, and made their home inside the soul. What can I say overall? Well, let me put it like this: these books are like... "Gone with the Wind" meets up with "Eat, Pray, Love"; then whispers some "Secret life of Bees", forges some "Steel Magnolia's", and at times, wraps itself with the "Color Purple." Sigh. Did I mention how much I loved these books?