In Good Time: 8 Habits for Reimagining Productivity, Resisting Hurry, and Practicing Peace (Paperback)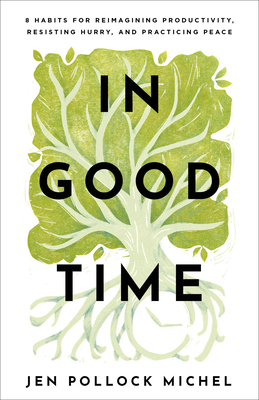 $16.99

Usually Ships in 1-5 Days
Description
---
Whether we're trying to find time, save it, manage it, or make the most of it, one word defines our relationship with the clock: anxiety. Yet is productivity really the only grid for the good life? Have you ever imagined a life without hurry, relentless work, multitasking, or scarcity? A life that is characterized instead by presence, attention, rest, rootedness, fruitfulness, and generosity?

This is the kind of life we are meant for, says Jen Pollock Michel. But if we want to experience freedom from time anxiety, we have to reimagine our relationship with time itself.

In the pages of In Good Time, she invites you to disentangle your priorities from our modern assumptions and instead ground them in God's time. Then she shows you how to establish 8 life-giving habits that will release you from the false religion of productivity so you can develop a grounded, healthy, life-giving relationship with the clock.
About the Author
---
Jen Pollock Michel is the award-winning author of Teach Us to Want, Keeping Place, Surprised by Paradox, and A Habit Called Faith. She holds a BA in French from Wheaton College and an MA in Literature from Northwestern University, and she is also a student in Seattle Pacific's MFA program. Jen is a wife and mother of five and hosts the Englewood Review of Books podcast.