A Cosmology of Monsters: A Novel (Hardcover)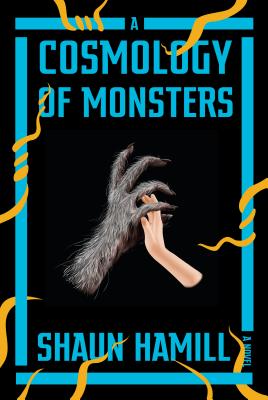 Description
---
"If John Irving ever wrote a horror novel, it would be something like this. I loved it." —Stephen King

Noah Turner sees monsters.

His father saw them—and built a shrine to them with The Wandering Dark, an immersive horror experience that the whole family operates.

His practical mother has caught glimpses of terrors but refuses to believe—too focused on keeping the family from falling apart.

And his eldest sister, the dramatic and vulnerable Sydney, won't admit to seeing anything but the beckoning glow of the spotlight . . . until it swallows her up.

Noah Turner sees monsters. But, unlike his family, Noah chooses to let them in . . .
About the Author
---
A native of Arlington, Texas, SHAUN HAMILL holds an MFA from the Iowa Writers' Workshop. He lives in the dark woods of Alabama with his wife, his in-laws, and his dog. A Cosmology of Monsters is his first novel.
Praise For…
---
"Shaun Hamill's A Cosmology of Monsters brilliantly combines the mythos of H.P. Lovecraft with a contemporary story of a family under threat of destruction from supernatural forces. It succeeds because these are good, likeable people that we root for; they could be our neighbors. Horror only works when we care for the people involved, and because we care for the Turners, their nightmare becomes ours. Hamill's prose is simple, and simply beautiful. If John Irving ever wrote a horror novel, it would be something like this. I loved it, and think you will, too."
—Stephen King

"Hamill has crafted an ambitious, spellbinding horror novel for the ages, one where the looming specters of ambition, obsession, and loss are every bit as terrifying as the flesh-and-blood monsters themselves."
—Adrienne Westenfeld, Esquire, "The Best Fall Books of 2019"

"[A] horror tale unafraid to tackle big issues of familial fealty, the architecture of fear, and the metaphysics of love, all while shocking the pants off the reader. . . . Cosmology straddles the line between scares and feels with confidence and flair. . . . It's a book that haunts in a myriad ways, and its monsters are just as often palpably real as they are dredged from the depths of nightmares. Horrific yet emotionally immersive, A Cosmology of Monsters is equally a cartography of the heart."
—Jason Heller, NPR.org
 
"[A Cosmology of Monsters] is very much John Irving's Hotel New Hampshire by way of H.P. Lovecraft. . . . The book is a mesmerizing, meandering, dark tale of growing up and finding monsters all around you."
—Jef Rouner, Houston Chronicle
 
"[A Cosmology of Monsters] is a family saga about the anguish of coming of age. It is a horror novel about the horrors of living. It is also very much about the redemptive nature of love."
—Steven Whitton, The Anniston Star

"A magnificent tribute to Lovecraft's vexing achievement, A Cosmology of Monsters redeems . . . the master's flaws. Hamill's heart-stopping debut novel features exceptionally graceful language and a set of characters we come to worry about, take delight in, grieve for and love. Saturated with endless wonder and horrific consequences. . . . Bites horror to its core."
—Michael Alec Rose, BookPage

"A monster stalks a family across generations; a hidden city beckons from beyond perception; trauma and human frailty and loss bear their terrible fangs. . . . A Cosmology of Monsters is as weird and compelling and ambitious a horror novel as you could possibly want."
—Carmen Maria Machado, author of Her Body and Other Parties
 
"A Cosmology of Monsters is almost more John Irving than [Stephen] King, since Hamill writes about family, sex, and all things grotesque with a gleeful openness. In a way, the novel is a twisted coming-of-age tale, with all the benchmarks of male adolescence—shame, jealousy, anger, and id—personified in the form of a monster and transformed into literal horror. It's a novel that's both beautiful and terrifying, which isn't the easiest thing to pull off. Hamill knows how to craft great horror fiction, but he's also a keen observer of how families cope with loss and with one another."
—Michael Schaub, Texas Observer
 
"Moving and harrowing, and not for the faint-hearted."
—Eric Brown, The Guardian

"A Cosmology of Monsters takes the basic idea of ancient monsters from mind-shattering dimensions to some unique and empathetic places. . . . The book is an object lesson in truly effective horror storytelling, proving that the best way to make you afraid for a character is to make you care about them first."
—Katie Rife, The A.V. Club

"A uniquely weird and wonderful reading experience. . . . The writing is simply haunting, the story full of heart. . . . I highly recommend this novel for fans of Paul Tremblay and Stephen King. Much in the vein of these two celebrated horror writers, Hamill has built a rich world full of complex characters and he successfully delivers in showing how the horrors of real life can be just as terrifying as any monster."
—Beth Mowbray, The Nerd Daily

"Sometimes you read a book and you know it's special. A Cosmology of Monsters by Shaun Hamill is just such a book. It's a book about family, love, loss, obsession . . . and monsters. Unique and wonderful. You won't read anything like it this year."
—C. J. Tudor, author of The Chalk Man and The Hiding Place

"Told with tenderness and brimming with darkness, Hamill's debut is sure to please readers who have a special literary craving for monsters."
—Bradley Sides, The Millions

"Exquisitely written, A Cosmology of Monsters is both beautiful and haunting. Shaun Hamill has crafted the best sort of horror story: one full of love and dread that will have you rethinking your definition of what a monster is."
—Jennifer McMahon, New York Times bestselling author of The Winter People and The Invited

"[A] very scary coming-of-age tale that lives in the same space as Stranger Things, Stand By Me, and Stephen King's It. . . . The way Hamill weaves his way between the phantasmagorical elements and Noah's everyday dramas is nimble in a way reminiscent of King. . . . An accomplished, macabre horror saga and a promising debut from an imaginative new author."
—Kirkus Reviews

"A Cosmology of Monsters by Shaun Hamill is beautiful, heartbreaking, offbeat horror. A terrific debut."
—Ellen Datlow, editor of The Best Horror of the Year